The 2013 Mazda CX-5 vs. the 2013 Nissan Rogue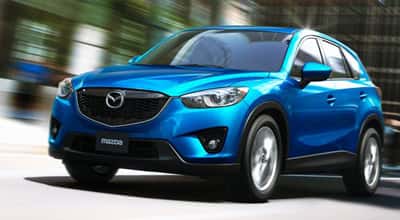 The five-seat 2013 Mazda CX-5 brings fuel efficiency and style to the crossover class. Its 2.0L SKYACTIV engine helps families to save on their annual fuel bills, while still delivering a satisfying amount of power. Drivers who really need to unlock the power of the CX-5 can trade up to the more powerful 2.5L engine. Don't forget the wide range of other options available for the CX-5, either. Drivers can enjoy features like push-button start, Bluetooth handsfree calling, and more.
One of the reasons that drivers go with the 2013 CX-5 over the similarly-priced 2013 Nissan Rogue is it offers owners more engine options. The CX-5 gives drivers the choice of either a more fuel friendly engine or a more powerful one. Rogue drivers just have the single option, limiting driver's access to fuel savings. Let's explore this and the other benefits on the CX-5.
Power and Fuel Economy
The CX-5 comes standard with a 2.0L Inline four-cylinder engine with a power output of 155 hp. This moderate amount of power allows the CX-5 to maintain a cool 26 mpg in the city and 32 mpg on the highway with front-wheel drive and the automatic transmission (drivers can get 35 mpg on the highway with the manual transmission). In comparison, the Rogue is only available with a 2.5L Inline four-cylinder engine that only is rated at 23 mpg city and 28 mpg highway.
If power is what you crave, the CX-5 is also available with a 2.5L engine with power output of 184 hp and 185 lb-ft of torque. Even with the power increase, FWD models get 25 mpg in the city and 32 mpg on the highway.
Vehicle Features
Besides more options in the drivetrain, the 2013 CX-5 comes with several options that are not available to Rogue drivers. These include:
Daytime running lamps
Automatic head lamps
A telescoping steering-wheel
Signaling exterior mirrors
Test Drive the 2013 CX-5 at Cox Mazda
Are you and your family interested in seeing what else the 2013 CX-5 has to offer? Why not stop by Cox Mazda in Bradenton for a test drive? Thanks to a reputation for straight forward sales, we continue to be one of the best places around to get care.
Visit us at our dealership at 3101 Cortez Road W, in Bradenton, which is just a short drive from Tampa. If you have any questions, please don't hesitate to contact us. Our team looks forward to meeting you.