The 2013 Mazda CX-9 vs. the 2013 Hyundai Santa Fe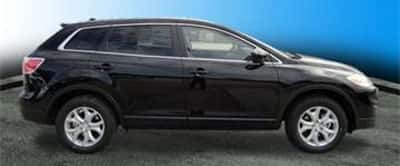 When you're looking for a great people mover around Bradenton and Tampa, you know what to choose, right? If you said the 2013 Mazda CX-9, you're thinking on the same page as us here at Cox Mazda. This stunning crossover utility vehicle gives families what they want when they want it switching easily between hauling cargo or taking the kids to soccer practice.
The family vehicle market is pretty competitive, though; let's see how the 2013 Hyundai Santa Fe stacks up against the CX-9.
Sporty Response and a Stylish Design for a Crossover
One of the biggest strengths on the side of the CX-9 is that it's a Mazda. This might sound obvious to you, but the fact is that the Mazda name means a lot. It means that the CX-9 is one of the few family vehicles that doesn't look boring or plain, but sports some of the best design work on the road today.
Aesthetics aside, Mazda has made a pretty impressive crossover that bests Hyundai's Santa Fe in more than just looks. Standard on the basic CX-9 Sport are automatic climate control (with separate driver and passenger controls) and a leather-wrapped steering wheel, and features like the standard bumper step up and the optional tow hitch receiver let you get the crossover that best fits your life's needs. The Santa Fe has you paying extra for each of those features, when they're even available.
While both vehicles have seating for seven, you'll have an easier time finding room for all the passengers' stuff in the Mazda, thanks to its 17.2 cubic feet of storage space. The Hyundai only offers 13.5 cubic feet of cargo space.
Test Drive the CX-9 at Cox Mazda
It might seem like an easy choice with all the 2013 Mazda CX-9 has going for it, and while we do agree, we think you need to take one for a test drive and see it firsthand. Contact our sales team today – or just drop on by at 3101 Cortez Road West – and we can get you behind the wheel of Mazda's new crossover in no time.
We're here for you seven days a week, and we can't wait to serve you!