The 2013 Mazda3 vs. the 2013 Chevy Cruze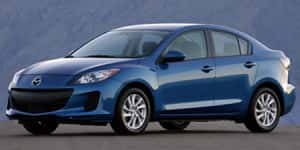 There's something just inherently fun about the 2013 Mazda3. We're not sure if it's because of its unique, streamlined design, its great performance, awesome list of standard features, or a combination of the three. For whatever reason, these qualities have helped to set the Mazda3 above the competition. The 2013 Chevy Cruze is another popular model in the compact class. Both have a similar price, but is one better than the other. Let's take a look at both models.
Compact Powertrain
Mazda sets the Mazda3 i-Sport's MSRP around $18,500, almost identical to that of the Chevrolet Cruze LS. There are some key differences, though. The Mazda3 i-Sport comes with a 2.0L four-cylinder engine with a power output of 148 lb-ft of torque and an estimated fuel economy of 39 mpg.
The Cruze LS, on the other hand, comes with a 1.8L 4-cylinder engine with 123 lb-ft of torque and an estimated highway fuel economy of 35 mpg. Compact cars see a lot of use as commuter vehicles, so these fuel savings are essential.
Vehicle Features
There are also a few standard features on the Mazda3 iSport that are missing on the Cruze LS, including cruise control and steering wheel0mounted audio controls. This Mazda3 also has several optional features not available on the comparable Cruze model, including an auto-dimming rearview mirror and a load bearing exterior rack.
Take the 2013 Mazda3 Out for a Drive at Cox Mazda
As you can see, the Mazda3 looks to be the better buy. If you want to get a closer look, please feel free to visit us at our dealership. We're located at 3101 Cortez Road West, in Bradenton. Cox Mazda is less than an hour south of Tampa; take I-75 South to get to us. We're on the left, so you'll want to make right after you pass Cox Chevy on the right; the dealership is across from Wyman Plumbing and Hide Away Storage. Please contact Cox Mazda if you have any questions about the Mazda3 or any of our other vehicles.