The 2013 Mazda5 vs. the 2013 Dodge Grand Caravan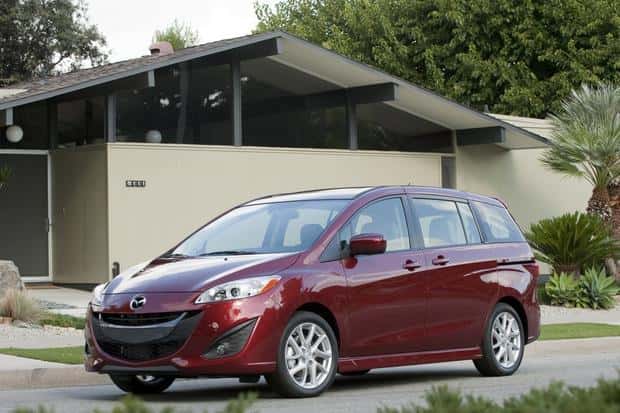 The 2013 Mazda5 minivan is become an increasingly popular choice for Bradenton and Tampa families thanks to its low price and roomy cabin. Signature to Mazda, it comes with a streamlined, refined design that's more dynamic that most for a family vehicle.
One of the main reasons that drivers choose the Mazda5 over the 2013 Dodge Grand Caravan is because of the difference in fuel economy. Besides that, the Mazda5 comes with most of the standard features that Grand Caravan does, including a few more.
Better Fuel Economy on the Mazda5
It's no secret family vehicles see a lot of heavy use, so having high fuel economy is essential. The Mazda5 comes equipped with a smaller engine than the Dodge Grand Caravan, allowing it to achieve a fuel rating of 21 mpg in the city and 28 mpg on the highway. The Grand Caravan gets 17 mpg in the city and 25 mpg in the county. Both vehicles get combined economies of 24 mpg and 20 mpg respectively.
Vehicle Features
There are several key features that come standard on the 2013 Mazda5 that do not come standard on the 2013 Dodge Caravan include:
Automatic climate control, helping you to regulate the cabin temperature so it's just so you want it
Exterior signaling mirrors
A third-row manual headrest
There are also several available options on the base trim that are not available to Dodge Caravan SE drivers. These include fog lights and a load-bearing exterior rack. Being able to store things outside your vehicle is a great way to increase you cargo capacity, making it perfect for cabin trips or weekend moves.
Test Drive a 2013 Dodge Grand Caravan at Cox Mazda
If you would like to test drive either vehicle, we encourage you to stop by our dealership or give us a call. We're located at 3101 Cortez Road W., in Bradenton, just a short drive from Tampa. As a part of the Cox Family, we're pleased to continue to offer great service and great sales to the Suncoast area.