The 2013 Mazdaspeed3 Roars Past the 2013 Ford Focus ST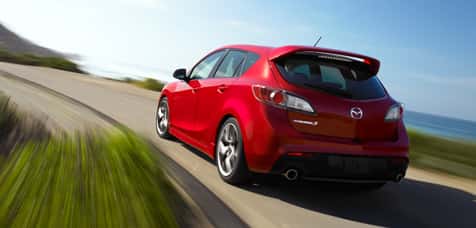 The 2013 Mazdaspeed3, the performance version of the the popular Mazda3, gives similar souped-up vehicles like the Ford Focus ST a definite run for their money. Done up with a hatchback body and a special performance styling with a new grille, hood swoop, and refined back, the Mazdaspeed3 looks every inch the finely-tuned roadster. A turbocharged engine lies at the heart of this beast, resting on a performance drivetrain that ensures this vehicle is even more fun to drive than it is to admire.
The good news is that you can do both at Cox Mazda in Bradenton, one of the Tampa area's top Mazda dealerships! We're located at 3101 Cortez Road W, a short drive west from the Sweetbay Supermarket.
The Mazdaspeed3 Is the Definition of a "Hot Hatch"
We've already compared the 2013 Mazda3 and the 2013 Ford Focus; now it's time to raise the stakes and match up their edgier sides. Why do so many drivers prefer Mazdaspeed3 to the Ford Focus ST? The short answer: it's all about the feel behind the wheel, baby.
Both the Mazdaspeed3 and the the Focus ST come equipped with Inline 4-cylinder turbocharged engine. Yet the 2.3L engine on the Mazda has a better power output than the Focus ST, 263 hp and 280 lb-ft of torque at 3,000 rpm compared to 252 hp and 270 lb-ft of torque at 2,500 rpm.
Many drivers have expressed, though, that the Mazdaspeed3 is just more fun. Whereas the power on the Focus ST feels even and spread out, the Mazdaspeed3 kicks on the turbo with explosive force. When you consider that models like the 2014 Mazda6 are winning races at the Indianapolis Motor Speedway, it becomes obvious that Mazda knows how to build a car that packs a heck of a punch.
Besides the awesome power, the interior of the Mazdaspeed3 has a more professional look than does the interior of the Focus ST, a quality that adds luxury appeal whenever you aren't roaring down the highway.
See the Mazdaspeed3 for Yourself at Cox Mazda
Eager to feel the power for yourself? We encourage you to stop by Cox Mazda in Bradenton! We're located at 3101 Cortez Road W, a quick trip from Sarasota, Tampa, and St. Petersburg.
As a member of one of the area's oldest names in the auto business, Cox Mazda is proud to continue to deliver great service and great cars to Suncoast drivers. Feel free to give us a call with any questions!