The 2013 Mazdaspeed3 vs. the 2013 Hyundai Veloster Turbo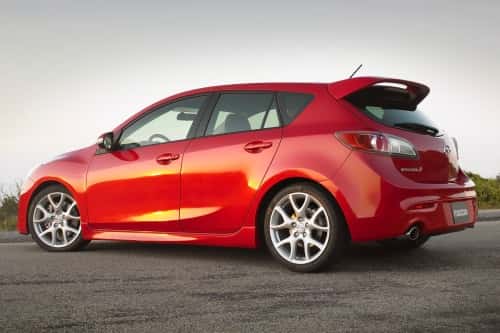 Taking the sporty design of the Mazda3 and enhancing what's under the hood with a wide range of performance upgrades, the 2013 Mazdaspeed3 has come out near the top of the performance hatchback class. With its comfortable cabin and great list of features, the Mazdaspeed3 has more to offer than simply speed and handling.
A lot of Bradenton and Tampa drivers are also giving some attention to the all new Veloster Turbo, a significant contender in the sporty hatchback market. Tougher performance and a greater availability of features — as well as a very similar price tag — may make the 2013 MazdaSpeed3 a more appealing choice than the 2013 Veloster Turbo. Here's how the two models match up.
More "Go" With the Mazdaspeed3
Equipped with a 2.3L inline 4-cylinder engine, the Mazdaspeed3 is rated at 263 hp and 280 lb-ft of torque. This substantial amount of power gets drivers fantastic acceleration and quick handling. The Hyundai Veloster Turbo, on the other hand, uses a 1.6L inline 4-cylinder engine with 201 hp and 195 lb-ft, nowhere near what the Mazdaspeed3 has to offer.
There are also quite a few options included on the Mazdaspeed3 that aren't available (or are only available as upgrades) for the Veloster Turbo, including:
Automatic climate control, with separate controls for the driver and passenger
High-intensity discharge headlights
Rain-sensing wipers
A load-bearing exterior rack
Bumper step-up
The Mazdaspeed3 also provides more space for passengers and cargo than the Veloster Turbo. Mazda drivers get 94.6 cu. ft. of passenger space and 17 cu. ft. of cargo space, whereas Hyundai drivers get 89.8 cu. ft. and 15.5 cu. ft., respectively.
Learn More at Cox Mazda
If you would like to learn more about the Mazdaspeed3 or any of Mazda's other current models, we encourage you to stop by our dealership. Cox Mazda is located at 3101 Cortez Road W. in Bradenton. If you have any questions, please don't hesitate to get in contact with us.
As a part of the Cox family — one of the area's oldest and most respected names in the auto business — we're please to continue to deliver great cars like the Mazdaspeed3 for great prices.