The 2013 Toyota RAV4 vs. the 2013 Mazda5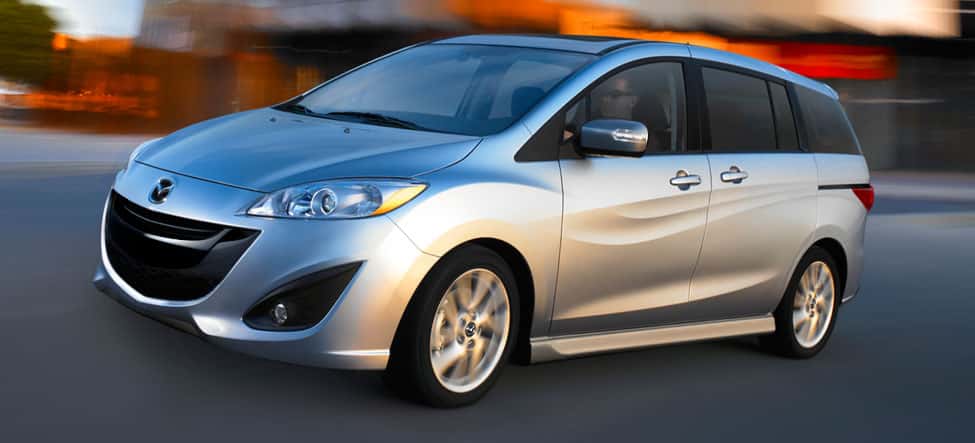 Residents in the West Samoset area looking for a tough, dependable crossover sport utility vehicle at an affordable price should consider the 2013 Toyota RAV4. Its starting MSRP is only $23,300 and it comes outfitted with a host of standard amenities. The RAV4 is quite fuel efficient with a combined estimated 26 mpg rating and comfortably seats five.
Consider the 2013 Mazda5
Those who are also researching crossovers such as the new Toyota RAV4 might also come across the well-established 2013 Mazda5, found here at our Mazda dealership near West Samoset. Unfortunately for the RAV4, the new Mazda5 is more affordable at a starting MSRP of $19,940. Overall, it offers more for much less:
Interior Entertainment: the 2013 Mazda5 and the 2013 Toyota RAV4 are both equipped with a standard AM/FM radio, CD player, and CD changer system. However, the new Mazda5 allows drivers the option to add a navigational aid, telematic system, and video player to their infotainment system. These three available technologies are not available for the 2013 Toyota RAV4.
Comfort: automatic climate control, rear heating and air conditioning, and a third-row split bench seat are all standard inside the 2013 Mazda5. This crossover comfortably seats 6 and offers custom temperature options for multiple occupants. The 2013 Toyota RAV4 does not come with any of these features.
Exterior Versatility: for added safety during low-visibility road conditions, the 2013 Mazda5 can be outfitted with optional fog lights. Driver and passenger side sliding van doors are also standard equipment, which makes entering and exiting the vehicle a breeze. That includes loading and unloading cargo as well. The 2013 Toyota RAV4 does not come with available fog lights or sliding van doors on either side of the vehicle.
Experience the 2013 Mazda5 at Cox Mazda
If you're interested in exploring the new Mazda5 further, don't hesitate to give our professional sales associates here at Cox Mazda a call at (888) 260-1691 or come visit our dealership at 3101 Cortez Road W. in Bradenton. We're about three miles from West Samoset; just take S. Tamiami Trail and continue onto Cortez Road W.