The 2014 Mazda CX-5 vs. the 2014 Ford Escape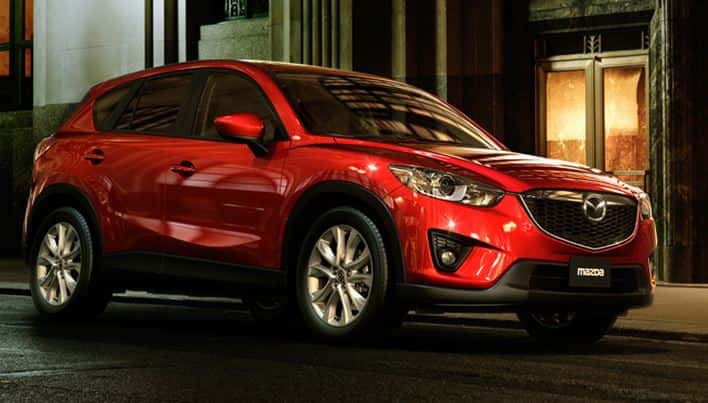 Like a good Mazda, the 2014 CX-5 crossover brings to the table what most Bradenton and Tampa drivers are looking for: a vehicle that that has a smart look to it on the outside as well as in, and doesn't sacrifice fuel economy for power, or vice versa. The CX-5 also comes with a full list of options that includes a push-button start, Bluetooth handsfree calling, and navigation.
You can see what the CX-5 fully has to offer at Cox Mazda in Bradenton. We're located on Cortez Road W, just a quarter of a mile to the west of the Sweetbay Supermarket.
The Ford Escape has a similar starting price and size, including the same 5-passenger seating. What sets the CX-5 above it though in our opinion is its superior fuel economy and wider list of standard options.
Go Farther with the CX-5
Both the Escape and the CX-5 come equipped with a 4-cylinder engine. The smaller, 155hp 2.0L 4-cylinder engine on the CX-5 gives it an impressive estimated 26mpg city and 32mpg highway rating, with a combined average of 29mpg. The Escape S, with its 168hp 2.5L 4-cylinder engine, gets an estimated combined average of 25mpg. And despite the power difference, the 2014 CX-5 is rated at 2000lbs for towing, while the Escape S is rated at 1500lbs.
Drivers who are looking to add more power to the CX-5 can opt for the 184hp 2.5L 4-cylinder engine. Even with the power difference, the 184hp CX-5 gets an combined estimated of 27mpg.
Plenty of Features
These are just a few of the options that are avaialble with the CX-5 that are not available on the Escape.
An outside temperature gauge
Automatic headlights
Daytime headlights
Fog lights
A load bearing exterior rack
A tow hitch reciever
Learn More at Cox Mazda in Bradenton
If you've already taken the Escape for a test drive, it's time to take the CX-5 out. Get behind the wheel at Cox Mazda. We're located at 3101 Cortez Road W, in Bradenton, just a short drive from Tampa, Sarasota, and other Suncoast area communities.
Our family has been serving the Bradenton area for over 20 years with pride and great service. If you have any questions, please don't hesitate to contact us!