The 2014 Mazda CX-5 vs. the 2014 Ford Escape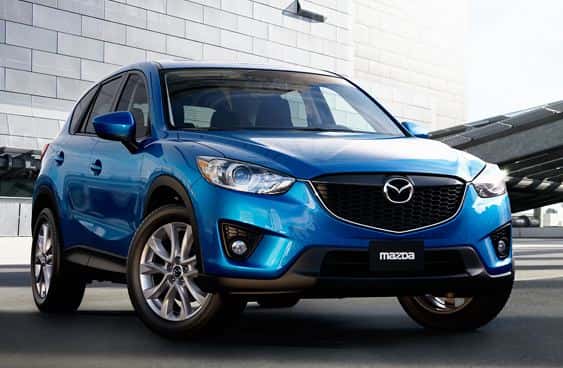 The Mazda CX-5 is a continual top-pick for Bradenton and Tampa families thanks to its reputation for dependability and efficient fuel expenditure. Like the rest of Mazda's line-up, it also comes with a sporty looking design, a smooth riding style, and a comfortable, well-equipped interior. It's this strong fuel economy and great list of features that has given the new 2014 Mazda CX-5 a leg up on competing models like the 2014 Ford Escape.
So what exactly sets the CX-5 aside from the 2014 Ford Escape? Let's take a look.
Fuel Economy
Like the 2014 Escape, the 2014 CX-5 comes equipped with an inline four-cylinder engine. When tied with the six-speed automatic transmission, the 2014 CX-5 gets an estimated fuel economy of 26 mpg in the city and 32 mpg on the highway. This is compared to the estimated 22 mpg city and 31mpg mpg highway fuel economy on the Escape. This strong efficiency makes the CX-5 a great option for families whose cars see a lot of use.
Vehicle Features
As for features, base CX-5 model drivers have a lot more options at their disposal than the similarly-priced Escape. These include:
An outside temperature gauge
Automatic headlights and daytime running lights
Signaling exterior mirrors
A load-bearing exterior rack
A tow-hitch receiver
Besides that, both vehicles have similar sizes and passenger and cargo capacities. If features and fuel economy are two important points for you, then we encourage you to further explore the 2014 CX-5.
Learn More at Cox Mazda in Bradenton
Now you've learned the differences between the Mazda and Ford Escape, are you interested in taking the 2014 CX-5 out for a test drive? Visit us at our dealership in Bradenton! Cox Chevy is located at 3101 Cortez Road W., just a short trip from many different communities around Sarasota, St. Petersburg, and Tampa. If you have any questions for right now, please email the Cox family.