The 2014 Mazda CX-9 vs. the 2014 Dodge Durango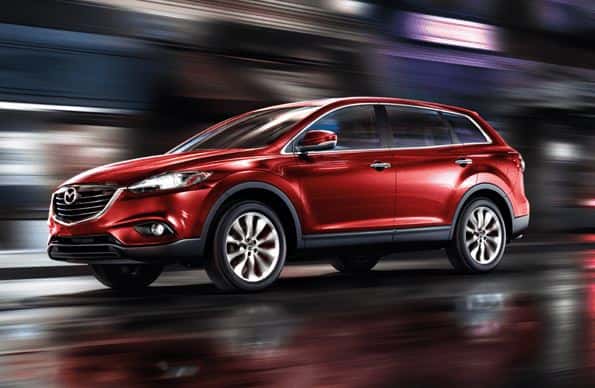 Its spacious seven-seat capacity and sleek design have helped to make the 2014 Mazda CX-9 one of the most popular choices in the crossover class for Bradenton and Sarasota drivers. And though names like Dodge Durango may have had a more exclusive grip on the power-meets-luxury end of the class in the past, the younger CX-9 has quickly moved in as a strong alternative.
With many of the same features as the Durango, as well as a similar price tag, the CX-9 is a great alternative choice, especially if you appreciate the smooth design of a Mazda.
Mazda Brings Smooth Looks to the Table
The CX-9 is an excellent translation of Mazda's design philosophy into the larger crossover SUV class. With a smooth, streamlined look and an aggressive stance, the CX-9 is bold and refined. It comes off as a stark contrast to the boxier Durango, which bears a look that some drivers may find a little dated.
Performance
The Mazda CX-9 comes standard with a 273 hp 3.7L V6 with 270 lb-ft of torque; fuel ratings are at 17 mpg city and 24 mpg highway. In contrast, the V6 engine on the Durango only puts out 260 lb-ft of torque.
Vehicle Features
As for features, the base CX-9 has several available options that are not available on the base Durango:
A navigation aid
A telematics system
A universal garage door opener
Remote ignition
Test Drive the 2014 CX-9 at Cox Mazda in Bradenton
Are you curious to learn more about the 2014 Mazda CX-9? We encourage you to stop by Cox Mazda in Bradenton to test drive the CX-9 or any of our other new Mazda models. Our dealership is located at 3101 Cortez Road W., just a short drive from Tampa and other Suncoast communities. If you have any questions, please feel free to contact us.