The 2014 Mazda MX-5 Miata vs. the 2014 Ford Mustang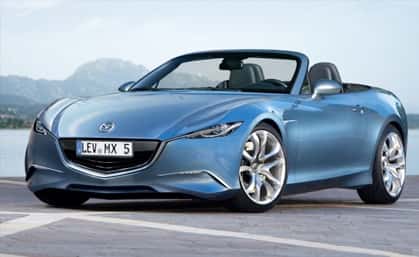 As your Tampa area auto dealer, we at Bradenton's Cox Mazda have a certain fondness for vehicles like the 2014 Mazda MX-5 Miata. After all, not only is it a Mazda, but it's one of the most affordable sports cars on the market today. And on top of that, it's just darn fun to drive.
But when it comes to cars, many drivers have their own personal preferences. We understand that a vehicle like the 2014 Ford Mustang has a certain appeal, but we think that when you have to compare swift and nimble handling versus pure muscle, the Miata comes out ahead.
Agility Versus Brawn
If you think the arguments over speed and handling versus pure power are something relegated to prize fighters and martial arts, then you haven't heard auto lovers get to talking about what their favorite sports cars are. (That some insist a Mustang is a "muscle car" rather than a sports car already says something.)
The Miata's sport-tuned suspension is paired with a 167-hp 2.0L engine—which is more powerful than it sounds thanks to its status as a lightweight and fuel efficient car. The Mustang's V6 comes in at 305 hp.
Now, we cannot account for personal taste, but when it comes down to it, the handling offered by the Miata, its responsive turning and swift, elegant movements far outweigh the ability to get from zero to sixty just a little bit quicker.
Another nice side effect of going for speed over brute strength: you'll spend less time gunning the engine, saving you gas over the Miata's already impressive 28 mpg highway fuel economy.
In the end, it does come down to personal choice, but when we find Mustang drivers who have never driven a Miata before, we've found people who very quickly become Mazda fans.
Test Drive the Miata Today
There really are not many vehicles on the market today like the 2014 Mazda MX-5 Miata. Affordable, stylish, and fun for Tampa drivers, Mazda seems to have cracked the code in the sports car market.
Of course, you shouldn't take our word for it; come take the MX-5 for a test drive. Contact our sales team at Cox Mazda in Bradenton to set up your time behind the wheel today.