The 2014 Mazda2 vs. the 2014 Ford Fiesta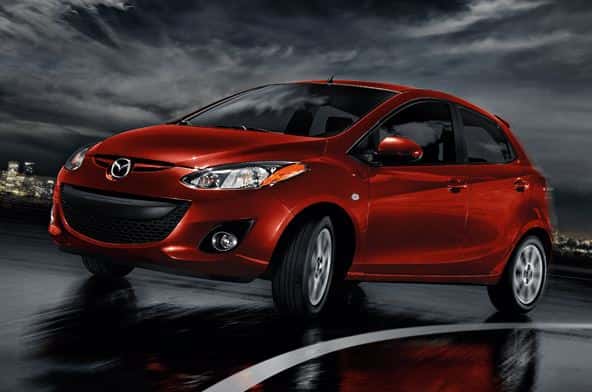 The new 2014 Mazda2 takes the performance and design, as well as fuel savings, that Mazda is known for and translates it well into the subcompact class. Its small size makes the Mazda2 an affordable choice while still featuring sporty performance and handling.
A similar model, the 2014 Ford Fiesta recently hit our shores as Ford's own addition to the American subcompact market. With a similar starting price, though, the Mazda2 offers more standard options than the Fiesta. Here's how the two vehicle's match up.
Vehicles FEatures
Here are just a few of options that are either standard or optional on the Mazda2 that are not standard on the Fiesta.
A remote fuel door release
An interior pollen / particle / dust air filter
Power windows
Fog lights
A rear wiper
A load bearing exterior rack
Bumper step-up
An interior auto day/night mirror
Another perk about the Mazda2 is it is shorter than the Fiesta by over 1.5 inches, while still increasing overall passenger and cargo space. This means parking on the street is a little easier as well as general navigation overall.
Comparable Fuel Economy
A major advantage of choosing a smaller car is fuel economy. Subcompacts make for great cars for city living, running errands, or just making the daily commute to work. On average, the Mazda2 gets a combined 32 mpg rating, compared with a 31mpg rating on the Fiesta. That difference will add up quite a bit in the long run.
Test Drive the 2014 Mazda2 at Cox Mazda in Bradenton
See how the Mazda2 handles at Cox Mazda! We're located at 3101 Cortez Road W., a short drive from Tampa, Sarasota, and other Suncoast area communities. For over 80 years, the Cox family has been serving the Bradenton area with fantastic service and great vehicles. If you have any questions, we encourage you contact the Cox family.