The 2014 Mazda6 vs. the 2014 Honda Accord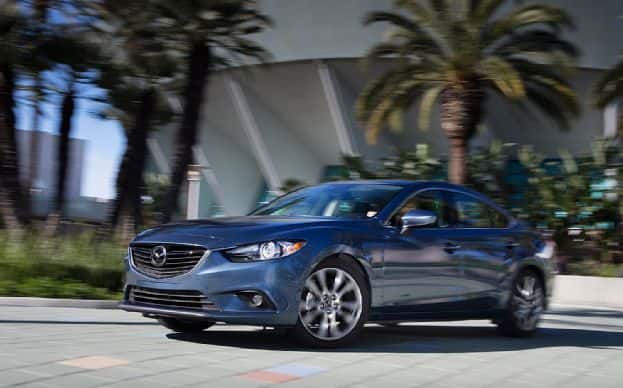 Have you been looking for a new sedan around Bradenton or Tampa? Visit Cox Mazda and check out the 2014 Mazda6, one of the sleekest, most impressive sedan options on the market today. The new Mazda6 is available now at our Bradenton showroom, and in addition to looking great, it's got it where it counts too. Well-equipped, easily affordable, and fuel efficient, what more could drivers ask for?
Of course, the sedan market is huge, and the 2014 Honda Accord has been making a name for itself. Let's see how it stacks up to the Mazda6.
Mazda Makes the Better Sedan, Hands Down
It's tough to figure out where to start when there are so many ways the 2014 Mazda6 bests the 2014 Accord, but let's start with one of the most important factors in searching for a new car: price.
The Mazda6 starts at $20,990 (MSRP) compared to the Accord's $21,995. Now, that's not a huge difference, but when you see just what else the Mazda has to offer, we think you'll wonder why the Accord costs over $1,000 more.
The sticker price is not the only place Mazda offers more savings. Their sedan has an EPA-estimated highway fuel economy of 37 mpg, while the Accord only comes in at 34 mpg. Those savings will add up.
Get More with Mazda
Drivers looking to add more onto their sedan will have trouble with the Accord. While Honda does offer amenities like a navigation system, they come at higher trim levels. Drivers of the Mazda6 can add on a navigation system at the entry-level trim.
Some other features available on the Mazda6 that you won't find on the Accord include:
Signaling exterior mirrors
Fog lights
Cargo area tie downs
Leather-wrapped steering wheel
While Honda has been pushing their vehicles as having a new definition of standard features, it still doesn't stand up to what Mazda has to offer.
Take a Mazda for a Test Drive
We think it's pretty clear that the 2014 Mazda6 comes out ahead of Honda's sedan, but you should see it for yourself. We're just a short drive away from Tampa, so visit Cox Mazda in Bradenton today and take the latest Mazda6 for a test drive.
Even if it's not quite up your alley, we carry the full Mazda lineup, and we are confident that one of their streamlined, efficient vehicles will be happy to call your garage "home." We can't wait to put you in the driver's seat.