The 2014 Toyota Camry vs. the 2014 Mazda6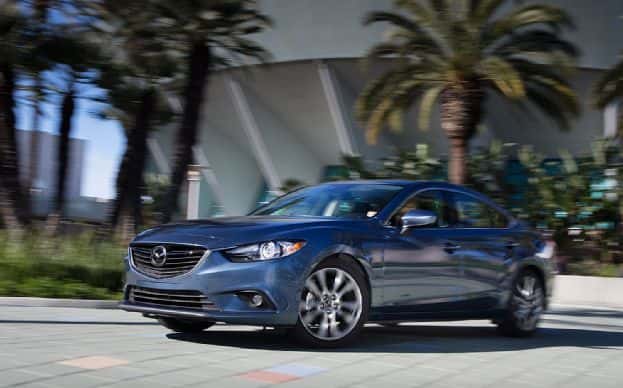 Although the sedan market manages to grow every year, the 2014 Toyota Camry has taken its fair share of the segment for years now. Economical and moderately well-equipped, the Camry has managed to compete against other sedans without too much trouble. But there are plenty of other sedans, including the 2014 Mazda6, available now at Bradenton's Cox Mazda, your West Samoset area Mazda dealer, and we think the new Mazda deserves your attention.
Let's compare these two autos side by side and see which one's left standing!
Drivers Save with Mazda
Ask yourself what you would do with $1,200. Because if you choose to drive home the 2014 Mazda6 over the new Camry, you'll have a bit more than that to work with. The new Mazda sedan carries an MSRP of $21,785 compared to the Camry's $23,045, but that's not all.
The savings keep coming with the Mazda6, which has a 37 mpg highway fuel economy compared to Toyota's 35 mpg. Immediate savings and long-term savings come with the Mazda.
Toyota's Powertrain is Lacking
We're not quite sure how they did it, but the engine underneath the hood of the new Camry is somehow both less powerful and less efficient than the Mazda6.
We already covered the fuel economy, but Mazda's 2.5L inline 4-cylinder engine is good for 184 hp and 185 lb-ft of torque. Toyota's engine—also a 2.5L 4-cylinder—only gets 178 hp and 170 lb-ft of torque.
Have Room to Stretch in the Mazda
We know many drivers that just accept the fact that they'll be a bit cramped if they take a sedan on a road trip, but that's not the case with the Mazda6. Outclassing the Camry in front hip and leg room as well as rear hip room, it's hard to feel cramped in the stylish new Mazda.
Test Drive the 2014 Mazda6 Today
It looks like a pretty clear victory for the Mazda, but in the end, we want you to make that decision for yourself. Come by our dealership and take one of these new sedans for a test drive. We're located in Bradenton, just a short drive from nearby West Samoset, and we can't wait to see you.
Remember, we have the full line of new Mazda vehicles too, so even if the Mazda6 isn't for you, there's a pretty good chance we have something that is.