The 2014 Toyota Corolla vs. the 2014 Mazda3 4-Door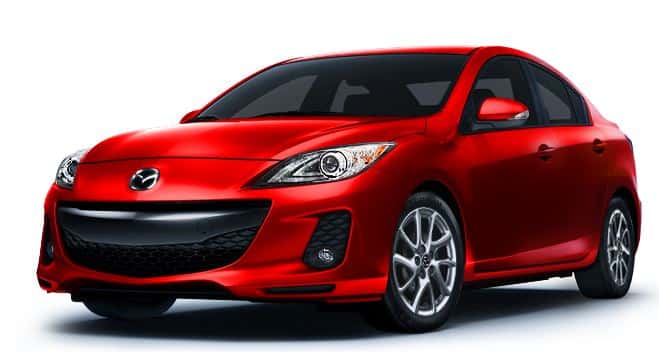 The Mazda3 has continually proven to be one of the most popular vehicles in the compact vehicle class thanks to its strong performance, equally impressive fuel economy, and its low price tag. A redesign for the 2014 Mazda3 transformed the sedan's classic smile in a bold new way, making it one of the most impressive looking options available.
You can test drive the 2014 Mazda3 4-door at our Bradenton car dealership, but we realize you may also be thinking about other models like the similarly-price 2014 Toyota Corolla. Here's how they compare.
Go Farther on More Power in the 2014 Mazda3
Equipped with the standard 2.0L engine, the Mazda3 4-door gets an estimated 29 mpg in the city and 41mpg on the highway, making it one of the most competitive options in its class. This is all while maintaining a power rating of 155 hp and 150 lb-ft of torque. A beefier engine is available as well for those that really like to put power under their foot; don't worry, even with the 2.5L engine fuel economy rests at 39 mpg on the highway.
The 2014 Corolla L, on the other hand, comes standard with a 1.8L engine with a power rating of just 132 hp and 128 lb-ft of torque. This lower power rating doesn't mean more power, either. The Corolla gets an estimated 28 mpg in the city and 37 mpg on the highway.
Find the New 2014 Mazda3 at Cox Mazda in Bradenton
One of the best ways to see if the 2014 Mazda3 is a good fit for you is to take it out for a test drive. We encourage you to stop by Cox Mazda and take it out for a spin.
Our dealership is located at 3101 Cortez Road W., in Bradenton, just a quick trip from Tampa, Sarastoa, St. Petersburg, and many other area communities. For over 80 years, the Cox Family has been serving families on the Suncoast. If you have questions about any of the vehicles we offer, new or used, or financing, please feel free contact our family.