---
Quick Links
ChangesPriceTrim LevelsSpecsMPGInteriorLease
---
2015 Mazda CX-9 Changes
While there was rumor of a 2015 Mazda CX-9 redesign, the current generation of the large crossover has continued for another year. While there aren't any major 2015 Mazda CX-9 changes for the new model, everything great about the previous model has returned. That includes the spacious interior, the incredible features, and the fun performance.
---
2015 Mazda CX-9 Price
This is the largest vehicle we sell at Cox Mazda, but the 2015 Mazda CX-9 price is still set for families. Here are three major price points this year:
2015 Mazda CX-9 Sport: $29,985
2015 Mazda CX-9 Touring: $32,489
2015 Mazda CX-9 Grand Touring: $35,035
---
2015 Mazda CX-9 Specs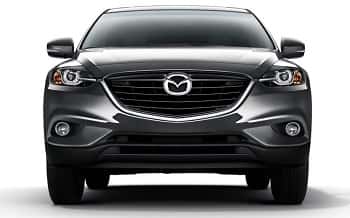 You don't have to pay extra to get maximum power in the 2015 Mazda CX9. Each trim features the same 3.7L DOHC 24-Valve V6 engine that is capable of producing 273 hp and 270 lb-ft of torque. The engine is paired with a sporty six-speed automatic transmission that makes smooth and efficient shifts for you.
Front-wheel drive comes standard, but you can upgrade to an AWD CX-9. All-wheel drive is great for driving in bad weather or taking frequent trips to the beach. With the CX-9, you can tow up to 3500 pounds, which makes the car great for equipping camping gear, a trailer, or even a smaller fishing boat.
---
2015 Mazda CX-9 MPG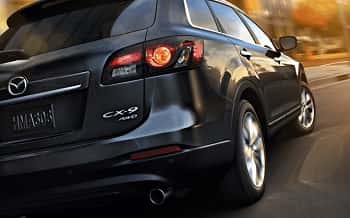 As a crossover, the 2015 CX-9 achieves better fuel economy ratings than a similarly sized SUV would. In FWD models, the 2015 CX-9 mpg is rated at 17 mpg in the city and 24 mpg highway. If you choose all-wheel drive, fuel economy is rated at 16 mpg city and 22 mpg highway. Both models take regular unleaded gas, though, so you don't have to pay extra for premium.
---
Trims and Features
This year's model has three different trims to choose from. Here's a look at your options when selecting a Mazda CX-9: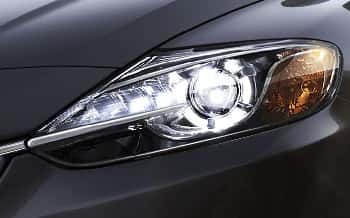 2015 Mazda CX-9 Sport: Though it is the base model, the CX-9 Sport is packed with modern features. These include full Bluetooth audio and phone connectivity, a 5.8-inch touchscreen interface to control vehicle and entertainment functions, Pandora internet radio, USB connectivity, and a tri-zone automatic climate control system to keep everyone comfortable.
2015 Mazda CX-9 Touring: Step up to the Mazda Touring trim for more features like leather upholstery, a rearview camera and rear parking sensors, a blind-spot monitoring system, an eight-way power driver's seat, and heated front seats.
2015 Mazda CX-9 Grand Touring: At the top of the trim ladder is the aptly-named CX-9 Grand Touring. With features like bi-xenon headlights, a power liftgate, and upgraded exterior and interior trim, this trim is truly grand. You can also add on additional features like navigation, a rear entertainment system, and an 11-speaker Bose audio system.
---
2015 Mazda CX-9 Interior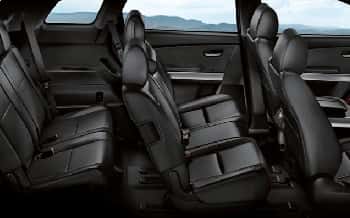 The 2015 Mazda CX-9 interior is incredible spacious. Inside the crossover, there's a total 137.7 cubic feet of passenger space, which translates to room for seven passengers in three rows of seating. Thanks to very large side doors, access is easy to all three rows. Second row seats can slide back and forth to make extra room for adults in the back so that passengers of any age can be comfortable.
This vehicle is also beneficial for its storage capacity and multiple storage configurations thanks to split-fold down rear seats. With a full load of passengers, the CX-9 has 17.2 cubic feet of dedicated cargo room. Move the third row down to expand that to 48.3 cubic feet. Put both back rows down and there's a large 100.7 cubic feet of space for moving. You'll also find plenty of other innovative storage spaces found throughout the cabin.
---
2015 Mazda CX-9 Lease
When you come to our dealership in Bradenton, you have the option to buy or lease a new Mazda and that includes the 2015 Mazda CX-9 lease. By leasing a Mazda CX-9, you aren't tied down to it and will be free to upgrade in a few years when the lease ends. Leasing is also generally more affordable than buying, so it may be easier to upgrade and get all the features you want. Get approved online or visit our dealership to learn more about a 2015 Mazda CX-9 lease.
---
The 2015 Mazda CX-9 Release Date is Here at Cox Mazda
There's no need to wait for a 2015 Mazda CX-9 release date: we've got the new model in stock right now at Cox Mazda. Our dealership is just a short drive from Tampa and Sarasota at 3101 Cortez Road W. in Bradenton, Florida. Contact our sales team to schedule a test drive or just visit us seven days a week!