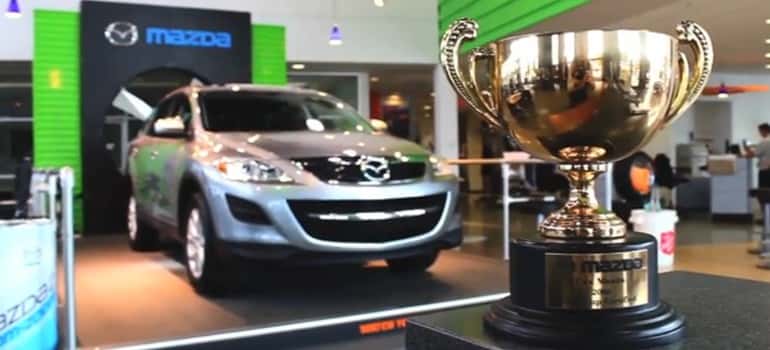 Greetings Bee Ridge!
Cox Mazda: Tops Among Dealers Near Bee Ridge
Cox Mazda, noted as the premier Mazda dealer for the Sarasota area, is happy to provide stylish and affordable Mazda models to Bee Ridge residents. Mazda dealers needn't be out of your range — we're only thirty minutes from your area. To reach us from Bee Ridge, simply:
Get on I-75 N from McIntosh Road/Bee Ridge Road. For 18 miles, follow it and FL-70 W to 53rd Avenue W.
Continue onto 53rd Avenue W. Turn right onto 34th Street W. In a mile, turn right onto 44th Avenue W./Cortez Road W. We're on the right — you won't be able to miss us!
Because we offer exemplary service and the full lineup of Mazda vehicles, there's no reason to stay away from Cox Mazda. As the Sarasota area's finest Mazda dealer, we gladly invite Bee Ridge customers to visit our lot seven days per week.
Big Inventory, Low Prices
Each year, Mazda introduces a new line of high-quality, stylish, and technologically impressive vehicles. We make sure to carry all of these vehicles: sedans, SUVs, and more. With all of these new vehicles, we're sure you'll find something that suits your fancy.
In addition, we have a wide range of used vehicles available — even cars from other automakers. And if you're looking for a cheaper vehicle that's as good as new, then browse our certified pre-owned Mazda vehicles, which receive a seal of approval after they undergo a series of tests by our technicians. Whatever you're looking for, this Mazda dealer is ready to provide it!
Specials and Deals for You
We know that Bee Ridge residents have many Mazda dealers to choose from, but we have a wide range of specials offers available to ensure you find a vehicle that's right for you. We know that buying a vehicle can be hectic and difficult, which is why our sales representatives promise to help you find financing. Ultimately, it's our goal to make buying a car as stress-free and simple as possible.
Cox Mazda Proudly Serves Bee Ridge Residents
At Cox Mazda, we see serving the Sarasota area as our highest duty. That's why we're committed to standing out from other Mazda dealers in the Bee Ridge area. Contact us or stop by today!