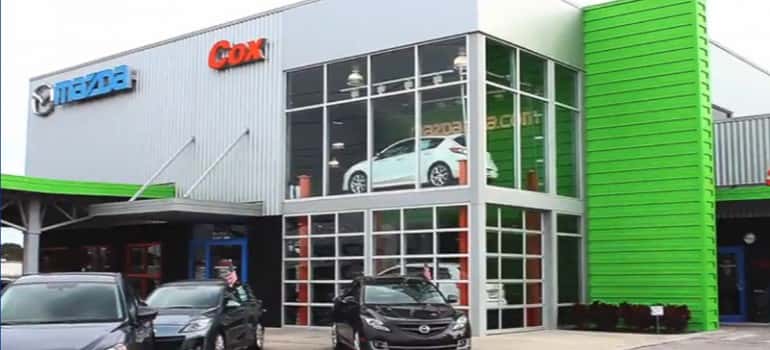 Hello North Sarasota!
Cox Mazda is One of the North Sarasota Area's Finest Auto Dealers
One of the Sarasota area's finest Mazda dealers, all of us at Cox Mazda are happy to be a short twenty-five minute drive from North Sarasota. To find us, consult the following directions:
Head east on Golf Course Drive toward N. Tuttle Avenue. Turn left onto N. Tuttle, then left onto Desoto Road, then left onto University Parkway.
Turn right from University onto N. Tamiami Trail. Turn left at 53rd Avenue W. Turn right onto 34th Street W. Turn right onto 44th Avenue W./Cortez Road W. We're on the right, at 3101 Cortez Rd. W.
Don't miss out on all we have to offer: customer service that offers what you want and need, affordable Mazda models and used cars from other automakers, and a guarantee that you're still our customer even after you've left our lot with a vehicle. Visit us seven days a week, and see why we're the preferred Mazda dealer for the North Sarasota area.
A Massive Inventory
Cox Mazda is proud to offer every new vehicle that comes off of Mazda's assembly line. If it's constructed with the most powerful technology and modern styling in mind, then we have it on our lot. So if you're searching for a car made by Mazda, we've got it. But that's not all we have — we also sport a wide array of used vehicles, including some from automakers besides Mazda. Check out our pre-owned inventory online. If you want a guarantee of the highest quality, try a car that's part of the Mazda certified pre-owned program.
Deals for North Sarasota Drivers
Those in the North Sarasota area will be happy to know that we offer a selection of vehicle specials on new and pre-owned models. Because we want to help you find the best deal possible, we try to do everything in our power to offer a vehicle within your price range. That's why we offer these deals — but we'll also advise you on financing and assist you in getting a loan.
Expert Service Technicians
As one of the North Sarasota area's finest Mazda dealers, it's our duty to take care of your car long after you've left our lot. That's why our in-house technicians are here six days a week to meet your needs, providing every service from parts exchanges to body repair. Schedule an appointment today!
Cox Mazda Serves the North Sarasota Community
Being one of the premier Mazda dealers in the North Sarasota area is tough work, but we couldn't do it without you! If you're in North Sarasota, give us a call at 888-260-1691, or stop by seven days a week to speak with a sales representative!