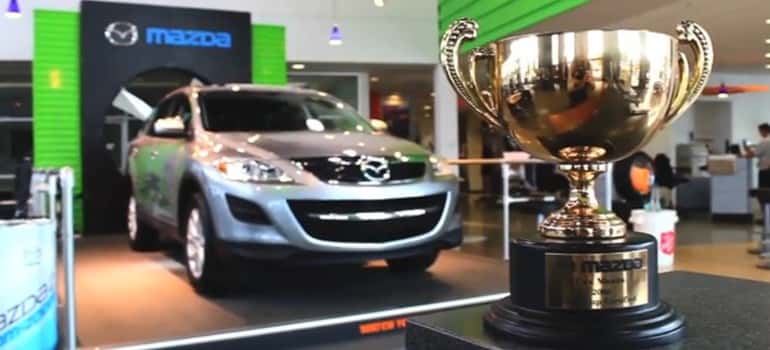 Hello The Meadows
Choose Cox Mazda as Your Auto Dealer Near the Meadows
At Cox Mazda, we pride ourselves on being the premier Mazda dealer in the Sarasota area. So those in The Meadows looking for Mazda dealers will be glad to know that we're only a quick twenty-five minute drive away. To find us from The Meadows, simply:
Take Ringwood Meadows and Marsh Field Road to Longmeadow.
Turn left onto N. Honore Avenue, then left onto University Parkway. Go four miles, then turn right onto US 301-N. After four miles, turn left onto 53rd Avenue E.
Turn right onto 34th Street W, then turn right onto Cortez Road W. We're on the right — you can't miss us!
Come check us out and see why we're the preferred Mazda dealer for The Meadows residents: our commitment to customers, to you. With our affordable Mazda models, huge range of vehicles, and impressive service center, we're sure you'll be impressed!
A Wide Range of Vehicles, Used and New
Every year, Mazda delivers new vehicles that go on the market equipped with the latest technology and style. We have all of those cars: each vehicle that Mazda is currently manufacturing has a place on our lot. That's what we mean when we say we're the premier Mazda dealer for The Meadows.
We also have a vast array of used vehicles that extend beyond just Mazda models. Plus, you can't go wrong with our certified pre-owned Mazda vehicles.
Incentives for The Meadows!
If you're looking for a car but need a little bit of a price cut, look no further than our list of rebates and incentives. We offer these specials because we know that sometimes it only takes a tiny discount to make buying a new or used vehicle realistic. In that vein, we'll also help you get loans and advise you on financing. Cox Mazda is here to serve the Sarasota area.
The Preferred Mazda Dealer for The Meadows Residents
Stop by today to see why we're the preferred Mazda dealer for residents of The Meadows. With our record of excellent service, affordable pricing, and dependability, you can visit us with confidence. Give us a call at 888-260-1691: our representatives are standing by seven days a week to answer your questions!