---
Your owner's manual comes in handy to find out how often you should rotate your tires. You see, every make and model does not have the same recommendations. Thus, it is best to refer to your manual to upkeep your vehicle. With that said, in general, you can factor in how many miles to rotate your tires.
It would be best if you drove no further than 5,000 to 7,500 miles without rotating your car tires. At Cox Mazda, we are happy to service your vehicle, Palmetto, drivers. Book an appointment with us to have your tires rotated.
When to Rotate Tires and Why
Maintenance of your vehicle helps keep your car healthy. The safety of you and your passengers is the number one reason you should rotate your tires. After all, tires are so essential to the stability of your vehicle. Let's take a look a when to rotate tires and why:
To reduce drivetrain strain
To increase traction on icy roads during the winter months
To reduce noise within the cabin of the vehicle
To keep increase vehicle stability
You will want to keep in mind the bumpy roads and potholes that winter leaves behind. Whether you commute to Tampa or live there, Spring, Summer, and Fall, all have their rough terrain, too. Thus, tire rotation is necessary to stay safe throughout the year.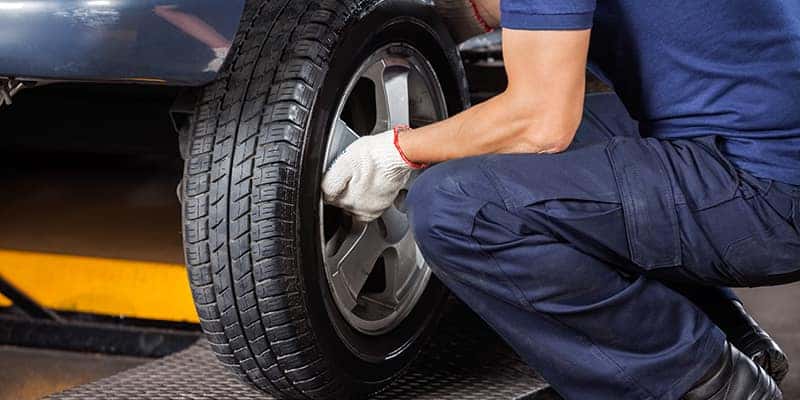 Is There a Difference Between FWD and RWD Tire Rotations?
Yes, tires respond differently to traction on FWD and RWD tires. Therefore, Front-wheel drive (FWD) tires tend to wear down faster on front tires. Whereas, Rear-wheel tires back tires wear down first. Here are tips on rotating FWD or RWD tires at home:
A DIY FWD Tire Rotation:
To perform a do-it-yourself FWD tire rotation, you will need to flip your rear tires to the front. Put the left rear tire on the front right tire. Do the same on the other side of your vehicle.
A DIY RWD Tire Rotation:
When performing an RWD tire rotation, you reverse what you would do on an FWD tire rotation. Thus, your front right tire becomes your left rear tire. Do the same for the opposite side.
Tips for Off-Roaders:
If off-roading in your vehicle is your passion, tire rotations are a necessity. You will need to rotate your tires more often. Our Service Department near Tampa is ready to rotate your tires for you.
Trust Your Tire Experts at Cox Mazda!
Our tire experts at Cox Mazda can safely get back on the road in no time. Schedule a service appointment for your next tire rotation with us. We are here to help you with all your service needs. Contact us today!