The 2013 Mazda3 Sedan vs. the 2013 Mazda3 Hatchback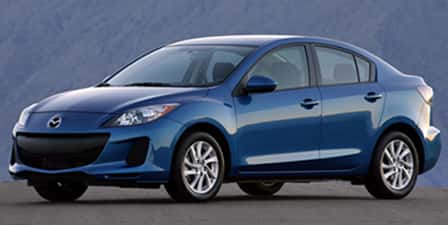 Life is full of big choices like who to ask to prom, what college to go to, and where to buy your first house. While not as big of an investment as a new home, buying a car is up there. After all, you're going to be driving it for many years to come, for better or for worse.
You've got your eyes set on the 2013 Mazda3, so you're doing good so far. Once you get to the test drive though at Cox Chevy in Bradenton, you're hit with a new dilemma: do you go with the stylish four-door sedan or the hot five-door hatchback? Both come with a great list of features and distinctive Mazda performance, but there are some key differences.
How Much Space Do You Need?
One of the biggest differences between the sedan and hatchback models is in cargo room. Both vehicles have the same amount of passenger space, but that's where similarities end. The four-door models have 11.8 cubic feet of cargo room and the five-door Mazda3 has 17 cubic-feet of room. Both models include a 60/40 split folding seat that allows you to increase the total cargo area. If cargo area isn't a big factor to you, the 4-door model has the advantage of a lower starting price.
Great Features
Both the Mazda vehicles are available with some of today's best features. This includes:
Bluetooth handsfree calling
Push button start
Auxiliary and USB input jacks for your MP3 player, smartphone, or other music device
A 5.8" full color touch screen navigation system
Test Drive Both the Mazda3 Sedan and Hatchback at Cox Mazda
Whether you're decided or still on the fence about which model you want, we can set you up with a test drive the Mazda3, as well as tell you about the different features available. Cox Mazda is located at 3101 Cortez Road W, in Bradenton, a quarter of a mile to the west of the Sweetbay Supermarket. If you have any questions, feel free to contact the Cox family.