The 2013 MX-5 Miata Roadster Keeps the Sports Car Class Fresh and Exciting
I'm a big fan of sports cars. Every time I see a Mazda MX-5 Miata, I can't help but stare. Stylistically, it's unique: the Miata's overall appearance hasn't changed much since it was released for the 1990 model year. And I like that. It's tough to find another car not afraid to stick to its roots.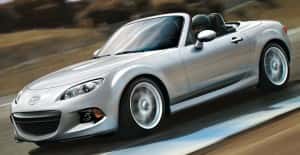 Outside the comfortable niche that the MX-5 has made for itself, it's been a bit of an arms race in the sports car industry for the past 50 years. That's putting it lightly, actually. The Mustang used to be classified as a "pony car," a compact variant on the sports car. Since then, though, it's become bulkier and heavier, pulling a full Bruce Banner to Hulk transformation. Meanwhile, the MX-5 remains the Superman, not aging and staying a classic.
The Spirit of Zoom Zoom
Currently in its third generation, in contrast to other nameplates, the 2013 Mazda MX-5 has only increased in length by a mere two inches, going from roughly 155 inches to 157 inches. The wheelbase hasn't seen much of an increase, either.
And in a sports world mostly defined by sharp edges and wide planes, the smooth contours of the MX-5 are a nice change of pace. This has been the defining feature of the MX-5 that has stuck with it through its two subsequent reiterations. Probably one of the biggest stylistic changes the model saw was when Mazda gave it a facelift for the 2009 model year, adding the signature "smiling" grille.
MX-5 Performance
And while it may be caught smiling, the MX-5 Miata packs some strong performance under its hood. The 2.0L four-cylinder engine puts out 167 hp; solid power for the MX-5's compact size. Drivers have the choice between either a five-speed or a six-speed manual transmission, or a six-speed automatic. And one of the great things about driving the MX-5 is its strong 28 mpg highway fuel economy.
Find Out More at Cox Mazda
The only true way to get a feel for a great roadster like the MX-5 Miata is to take it out for a test drive. We encourage you to stop by Cox Mazda in Bradenton to explore it for yourself. Look for us at 2900 Cortez Road West, a quarter mile to the west of the Sweetbay Supermarket, and just a short drive from Sarasota, Tampa, and St. Petersburg area communities.