2014 Mazda3 Redesign Gets a New Look and New Smile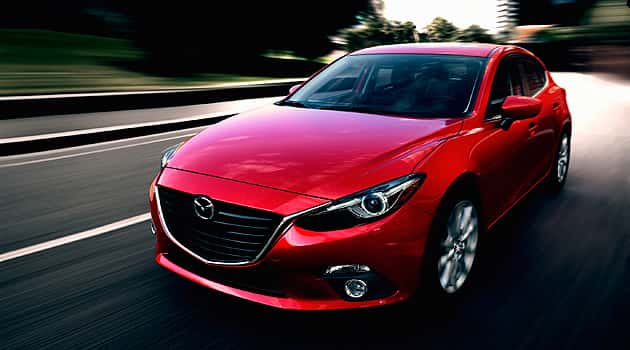 It's tough to look at the 2013 Mazda3 and not grin. While all cars naturally look like they have a face, the Mazda3 is by far the happiest. And while a smiling car would seem to attract derision, the Mazda3 really doesn't seem to get any. If anything, it seems to laughing at everyone else on the road. Its streamlined design, impressive amount of engine power, and finely- tuned performance have helped to make it one of the most attractive vehicles on the market since its iconic redesign in 2008.
After she put her old Coupe out to pasture, a past girlfriend decided to go with a 2010 Mazda3 for these exact aesthetic reasons. We didn't get to see how well it performed until we got behind the wheel, at which point we were sold. While out of town for a weekend, she had her father, a hardboiled ex-cop, keep the car is his garage. Every morning when he opened the garage door, he said his spirits were lifted when he saw the Mazda3 smiling back at him. After that, he referred simply referred to her car as "the happy gnome."
Face Swap, Mazda style
The "smiling" generation of Mazda3's is sure to live on in nostalgia, but for next year, the compact model is getting a make-over. Mazda recently unveiled the new 2014 Mazda3 via a streaming live Xbox event, which also featured a special concert by indie rock group Metric. The grin has been replaced with a more open grille, which draws inspiration from the 2014 Mazda4.
The large, open grille brings a new aggressive look that has never been seen on a Mazda3 before. During the unveiling, Mazda showcased a five-door hatchback model, whose sporty body naturally goes with the new fascia. The Mazda3 will also be released in four-door sedan model as well.
Watch for the new Mazda3 at Cox Mazda
We're pretty excited about the new direction that this popular nameplate is going. Our dealership is expecting the new Mazda3 in the coming months. When it arrives, we encourage you to stop by Cox Mazda in Bradenton for a test drive! We're located on Cortez Road W., just a quarter of a mile to the west of the Sweetbay Supermarket.