The 2014 Mazda6 Gets an Even Bigger Fuel Boost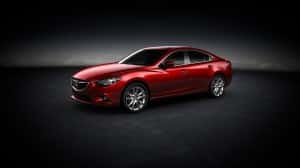 Thanks to its revolutionary body design and drivetrain system, the Mazda6 has been making waves in the auto community. Since its release, the model has been riding on a continual bed of awards, with honors on everything from its finely honed look to its demonstrated ability to protect passengers in the event of a crash.
Best-in-Class Fuel Economy
Its best-in-class 38 mpg highway fuel economy alone has been enough to get drivers interested. Mazda achieved this high efficiency rating by reducing overall weight with a high-tensile steel composite body that is simultaneously lighter and stronger than before. Then there's the all-new, 2.5L SKYACTIV-G engine that is more efficient at guzzling fuel and churning out power.
Mazda is adding a new component though that will push fuel efficiency up to an impressive 40 mpg on the highway: the i-ELOOP regenerative braking system. This addition will be a part of the GT Technology package on Grand Touring models.
"Mazda is again changing the game of automotive engineering, this time making fuel efficiency not seem as a compromise but a true complementary feature as part of the complete vehicle package," said Jim O'Sullivan, president and CEO, of Mazda's North America Operations "With the addition of i-ELOOP, the 2014 Mazda6 will achieve the best mileage for a non-hybrid midsize sedan."
Innovative Tech Meets Function
The i-ELOOP regenerative braking system takes kinetic energy from the vehicle and converts it into electrical energy, which is then stored and used to power different electrical components, including the headlamps and audio systems. Under normal circumstances, fuel would be burned to supply the energy for these components.
But how does it work exactly? Meaning "intelligent energy loop," i-ELOOP uses the energy normally lost in braking to turn the alternator. Normally, the alternator is cranked constantly by the engine, work that reduces both horsepower and fuel efficiency. During operation with i-ELOOP, the alternator runs in free-wheel mode while driving, only engaging when the vehicle is decelerating. This means no unnecessary gas expenditure.
Learn More at Cox Mazda
i-ELOOP should be available soon on the upcoming 2014 Mazda6. If you would like to learn more, please feel free to get in touch with our sales team. We'd love to hear from you. Cox Mazda is located at 3101 Cortez Road W., in Bradenton. Visit our dealership for a test drive!