The 2014 Mazda6 Wins Award for Design and Elegance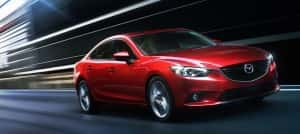 Mazda went all-in on the all-new, 2014 Mazda6, and the results prove how effective the Hiroshima-based auto manufacturer is at revolutionizing how cars are built. The latest accolade for the 2014 Mazda6 is a Gene Ritvo Award for Design and Elegance, presented by the New England Motor Press Association, or NEMPA. The award goes to a vehicle, ether concept or production, which embodies strong design.
Kodo Soul of Motion Design
"The 2014 Mazda6 is a stunning example of the real-world application of the 'Soul of Motion' design language," said NEMPA President Keith Griffin. "It was beautiful on the TAKERI concept and now is a stunning sedan that is turning heads around the world. Gene Ritvo would be proud to have his name associated with the Mazda6."
Another reviewer said that the Mazda6′ "subtle yet distinctive" design is what caught her eye while reviewing the Mazda6. While the industry seems to be embracing a "the more curves the better" mentality, Mazda takes the middle road, creating vehicles that embody exceptional design, even outside present trends.
KODO "Soul of Motion" is Mazda's signature design philosophy that takes its inspiration from the movement of animals. This attention to design is reflected both on the inside and the out of the vehicle, creating cohesiveness throughout the Mazda6 and the rest of the Mazda lineup.
Moving from an Idea to Reality
As the largest, four-door vehicle in Mazda's line-up, Mazda6 engineers saw an opportunity to put Mazda's SKYACTIV fuel efficiency suite to the test. They worked the Mazda6 from the ground up, starting with the frame. To reduce weight, engineers designed the frame to be constructed from 61% high-tensile steel, increasing strength and rigidity while simultaneously reducing weight. Non-essential spot welds were also removed from the frame, cutting down on weight further.
The Mazda6 draws its power from a SKYACTIV 2.5L 184 hp engine. When equipped with the automatic transmission, the Mazda6 gets an incredible 38 mpg on the highway. This strong efficiency, coupled with the strong attention to design, is quickly making the 2014 Mazda6 a popular buy.
Test Drive the 2014 Mazda6 at Cox Mazda
If you would like to learn more about the 2014 Mazda6 or take it for a test drive, stop by Cox Mazda, in Bradenton. We're located on Cortez Road West, just a quarter mile to the west of the Sweetbay Supermarket.