The 2014 Toyota Corrola mpg Falls Short to the 2014 Mazda3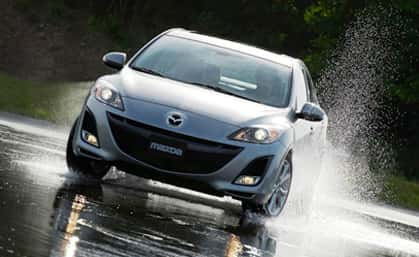 Toyota has always been known for their efficient sedans, and the Corolla is one of their hallmark models. These affordable cars are good on gas, comfortable to drive, and accommodating for any budget. But that does not mean that they are the most efficient sedan on the road, or the best choice for drivers looking for an affordable vehicle. Using advanced engineering, and a commitment to the customer, Mazda has designed their new 2014 Mazda3 sedan to be the ideal entry level vehicle.
Gas Mileage
The 2014 Toyota Corolla's gas mileage has steadily improved over the years, and this year's model gets an impressive 28 mpg in the city and 37 mpg on the highway. Those number lose some of their appeal, however, when you consider that the Mazda3 gets 29 mpg in the city, and a stellar 41 mpg on the highway. Those differences may seem modest, but over the life of the vehicle, they translate into huge cost savings.
Horsepower
Smaller sedans don't have to feel like insignificant cars. That is why the 2014 Mazda3 has been built to get 155 hp, the kind of power you can feel when you really need it. The 2014 Toyota Corolla, by comparison, gets just 132 hp. When you need to get up a hill or pass a truck, which car would you rather be driving?
Parking Assistance
One of the reasons that smaller sedans are so popular with urban dwellers is they have to contend for limited parking space. In order to make it easier on the driver, the Mazda3 has an optional parking assistance feature. Driving the Corolla, you have to rely on mirrors and your friends waving you into a parking space.
Test Drive the 2014 Mazda3 in Bradenton
If you are in the market for a smaller sedan that uses a minimum amount of gas, gets great power, has the features you are looking for and a stylish design that gets noticed, you should look further into the 2014 Mazda3.  If you would like to feel the excitement of this car for yourself, stop into our dealership, and get ready to be impressed.