2019 Mazda3 Tire Size and Service


Tires are the most important safety features on your vehicle, so it's important to make sure that they're in great shape. Your Mazda3 tire size depends on which model you choose from our online inventory! Whether you choose a Mazda3 4 door or a Mazda3 5 door, and depending on what trim level you choose, your Mazda3 tire size will vary. Our service specialists at Cox Mazda will help you learn more about Mazda3 tires and Mazda3 parts with our handy guide below! If you have any questions for our team, don't hesitate to contact us online.
What Are the Mazda3 Tire Sizes?
Find the right Mazda3 tires for your Sarasota and Tampa drives with the team at Cox Mazda! Browse tire sizes by Mazda3 configuration below:
4-Door Sport: 205/60R16
4-Door Touring: 215/45R18
4-Door Grand Touring: 215/45R18
5-Door Sport: 205/60R16
5-Door Touring: 215/45R18
5-Door Grand Touring: 215/45R18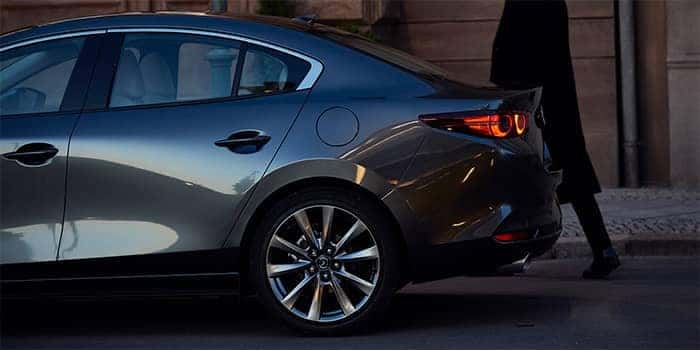 Tire Tools
Do you need more help understanding your Mazda3 tire size? Using tools like a tire size converter, wheel offset calculator, or tire height chart could help! Look up the following tools to see what changes in tire size can do to affect performance and appearance:
Gear ratio calculator
Tire size calculator
Metric tire conversion
Speed calibration
Tire Types
Depending on where, when, and how you drive, different tires suit different situations. Our service team at Cox Mazda can help you determine what tire is best for your Palmetto and Brandon commutes. Popular tire types that Ellenton drivers may want to consider include:
All Season
Winter
Street/Performance
Off Road/Mud Terrain
Summer
Find Your Tires at Cox Mazda
Are you ready to change your Mazda3 tires? Our tire center at Cox Mazda will help you get the Mazda3 parts you need to help keep you driving on the roads around Bradenton, worry free! Contact us if you have any questions, and be sure to schedule an appointment to get new Mazda3 tires today.
Want to learn more? Read up on the all-new Mazda CX-30 with our team at Cox Mazda, or check out more about Mazda3 Hatchback configurations.