Behind Mazda's KODO Design Language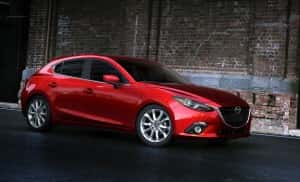 During the recent unveiling of the all-new 2014 Mazda3, Mazda talked a lot about their design philosophy and how it related with the direction of their line. The smiling grille of the current and first generation Mazda3 is a look that became iconic with the brand, but Mazda is pushing the design in a different dynamic direction, using a philosophy they call KODO.
What is KODO?
While there are distinctions among them, the majority of automakers don't have a word or phrase that coins their design philosophy. This makes Mazda very unique. With design studios in Irvine, California; Frankfort, Germany; and Hiroshima and Yokohama, Japan, Mazda is able to pull in ideas from all over the globe.
So what exactly is KODO? According to Ikuo Maedo, who heads up Mazda's Design Division, KODO is thoroughly based in the movement of animals. This animal influence can be seen in the subtle, organic curves in Mazda design. Each model in the lineup also has an aggressive stance, like it's about the run. The all new 2014 Mazda3 hatchback, the next step in one of the most popular names in its class, looks like it's an animal ready to pounce with a determined gaze. You'll be able to get a closer look when it comes to our dealership later this year.
Test Drive the All-new 2014 Mazda6
Mazda gave the 2014 Mazda6 sedan a complete redesign, from the inside out. A new frame that is simultaneously lighter and strong supports the body and, along with the new SKYACTIV engine, gives it some of its class' best fuel economy. It also looks fantastic.
If you would like to take the new Mazda6 or any of our other vehicles out for a test drive, we encourage you to stop by Cox Mazda, in Bradenton. We're just a short drive west from the Sweetbay Supermarket. We look forward to meeting you!