Competitive Service Prices at Cox Mazda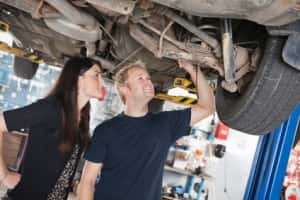 Making sure your car gets regular service is one of the most important parts of vehicle ownership. Without this proper care, your vehicle is at higher risk for break downs and expensive repairs. Don't wait to get maintenance for your car! Cox Mazda is one of the best places to get car service around Brandenton, Tampa, Sarasota, and St. Petersburg. We service all vehicle makes with the same diligence and care. That's just one of the reasons we continue to be a trusted name.
To make an appointment with our service team, feel free to give us a call, or make an appointment online.
When to Get Car Service
The first step to car maintenance is knowing exactly when you need to get it done. Your vehicle's guide contains a service schedule that lists when you need to take care of things like oil changes, tire rotations, timing belt replacements, and other vital procedures. Following this guide is one of the best ways to increase the chances of your car having a long, healthy life free of expensive repairs.
Things You Can do to Take Care of Your Car
A good part of vehicle maintenance takes place outside the shop. Even if you're not skilled with a wrench, there are still several things that you can do to help care for your vehicle:
Change the wiper blades: obviously the most important part of your windshield wipers is the rubber blade that sits on the window. What makes it so effective is its flexibility. Over time, though, this thin blade can become brittle and cracked. This dramatically reduces its effectiveness. This is why they need to be periodically checked. The hole blade component, plastic casing and all, is meant to easily pop off of the wiper arm. You can pick up replacements at the Cox Mazda parts department.
Get regular washes and waxes: debris from the road and salty sea air will make quick work of your car's paint job. Once this is gone, rust will quickly set in on your car's body, and that's a road you don't want to go down. Making sure your car gets regular washes helps to get this grime off of your car. Following up with a wax is vital, as it acts as a protective sealant against debris, as well as UV radiation.