Did the 2015 Mazda3 Accidentally Leak?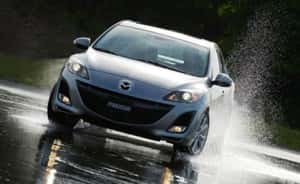 One of the best parts about being an auto enthusiast in this day and age is just how many people have a camera and access to the internet. It used to be that we'd have to wait until a magazine picked up photos some lucky photographer managed to snap if we were to get any leaked information on new vehicles.
These days, test models get special camouflage to make it tougher to determine which vehicle is out on the road, and even then, that doesn't help too often, as evidenced by just how many auto blogs already have pictures of what we think could be the 2015 Mazda3. It might sound like 2015 is a ways off, but the compact is set to be revealed this fall already, so it makes sense that there could be a few out on the road, getting the kinks out before they hit the showroom.
Mostly Rumors for Now
Although we think we've seen what could be the new Mazda3, anything going on in the cabin or under the hood is mostly speculation… which can be quite a bit of fun, playing the guessing game. Industry experts expect the powertrain to be driven by a 186-hp 2.5L four-cylinder like the one currently found in the CX-5 and Mazda6.
Some lucky auto journalists managed to get a glimpse inside, though. A next-generation user interface with a dash-mounted touchscreen interface and an instrument panel that borrows quite a bit from motorcycle designs ensure that the new Mazda3 will look just as advanced inside as out.
Visit Cox Mazda in Bradenton
Until we get more information, though, you might want to visit our dealership and test drive the current Mazda3. While Mazda is sure to update certain aspects of the vehicle – we expect some more tech features to become standard for sure – the fact is that a Mazda3 will feel like a Mazda3, and if you're interested in the 2015 model, the closest you'll get is sitting behind the wheel of the current version.
If you have any questions about the upcoming Mazda lineup or want to take a current model for a test drive, contact our dealership today. You can find our showroom open seven days a week here in Bradenton, and we can't wait to serve you!