Don't Skip a Timing Belt Replacement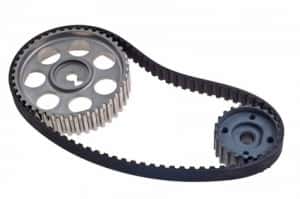 A timing belt replacement is a very important maintenance procedure for your vehicle. Since it doesn't have the gravitas the phrases "oil change" and "tire rotation" have, many drivers choose to ignore it instead. Another reason that many drivers choose to skip it is that it's one of those "few and far between" services. In fact, most vehicles will only need several timing belt replacements in their lifetimes. It is also a little more expensive than your average repair.
The truth is though that ignoring a timing belt replacement could seriously compromise the health of your vehicle, leading to serious engine damage and expensive repair bills. Why is it so important, though? Let's take a look.
Keeping Things in Rhythm Under the Hood
Your timing belt operates the valves that let air into your engine's cylinders and lets exhaust escape. If the belt snaps, some of these valves will stay stuck in the open position. During normal operation, they close and open just in time to miss the rising or lowering piston. If stuck, the quickly rising piston will smash into them. This will not only hurt the valves, but could actually crack the piston itself.
A sure sign that the belt has gone is loud clanking in the engine, followed by your vehicle dying.
How Do I Know When to get a Change?
Your Mazda owner's manual will list specific times when you need to take care of things like oil changes, brake inspections, and, of course, timing belt replacements. Following these guidelines will help you to avoid roadside breakdowns. I like to mark on my calendar when I need to take care of these things, or else, like most people, I'd certainly forget.
Need a Belt Replacement? Come to Cox Mazda
Making sure your vehicle receives regular maintenance is one of the best ways to avoid more expensive repairs in the future and keep your car's resale value high. A history of service at a professional service center will show up on the vehicle history reports like AutoCheck and CARFAX. When an interested buyer sees a strong service record, they can see that a vehicle has been well taken care of. To make an appointment with the Cox Mazda service team, either give us a call or make an appointment online.