Looking for Your First Car? Try the 2013 Mazda2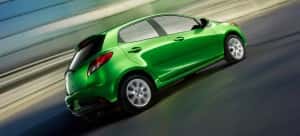 You are just out of college and looking for your first car. Back in school, all it took was a five minute ride on your bike to cut across campus to your cushy, no pressure job at the local pizza dive. Things are different now. You have to get up before noon, as well as shower and wear clean pants. You also need to get a car because you're pretty sure it's illegal to take your trusted bike on the freeway.
The Mazda2 Makes Sense for Younger Buyers
Looking for a new car can be an intimidating process. For many people, it's their first big investment. A compact vehicle like the 2013 Mazda2 makes the perfect choice for the first time car buyer. Besides its low starting price and stellar fuel economy, the Mazda2 also comes with a full list of available features. To top it off, it's got Mazda's signature streamlined design, with a compact twist.
Here's what the 2013 Mazda2 has to offer:
Prices start around $14,000
Up to an EPA estimated 35 mpg on the highway
Four-door hatchback design with room for five passengers
Standard air conditioning with a pollen filter
AM/FM/CD/mp3 sound system with auxiliary and USB inputs
Available Bluetooth connectivity for handsfree calling
The standard 60/40 seat helps you to maximize your storage options. When folded completely down, the Mazda2 has a gracious 27.8 cubic feet of cargo space, enough to fit you and your significant other's camping gear for weekend. Surprising, no? The amount of cargo space is so deceiving in fact that you could probably tell your buddy you didn't have the space to help him move on the weekend and get away with it too.
Cox Mazda Can Help With Financing
Most drivers choose to finance with us when purchasing their new vehicle. Even if you don't have a long credit history, we'll work with you to get approved and set on a payment plan that fits your budget. You can even start the process today with our online financing application.
Take a Test Drive at Cox Mazda
The Mazda2 looks and handles great. If you'd like to take it out for a drive or learn more about the available options, we encourage you to stop by for a test drive at Cox Mazda. We're located at 2900 Cortez Road West in Bradenton, Florida, just a quarter mile to the west of the Sweetbay Supermarket.