Mazda Teamed Up With Xbox to Announce the New 2014 Mazda3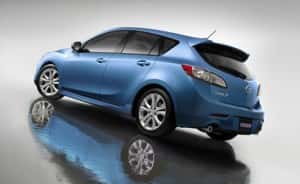 For its big reveal of the all-new 2014 Mazda3, Mazda teamed up with Xbox, along with the pop group Metric, for a unique streaming event that began at 9:00 p.m., June 26 in New York City.
Streaming Live on Xbox
The Mazda Exclusive Live Event marked the first time that a vehicle introduction was streamed live globally, as well as the first time a music group did the same. Dubbed #GAMECHANGER, the campaign is continuing with stops in Melbourne, St. Petersburg, Istanbul, and then back to New York. There will also be strong social presences on Facebook, Twitter, Instagram and Google+.
Advertising through one of the world's biggest networks of gamers has its unique advantages. Those who participated in the live announcement not only got to see a free concert but also were entered in a chance to win $2500 to take a trip to a music event of their liking. Fans also got a #GameChanger tee-shirt for their Xbox avatar to wear.
The move by Mazda was a smart one. The current generation of youth prides itself as being the "connected generation," receiving its information in a home-based setting in a way that allows them to communicate with others all over the world. Since the Mazda3 has been most popular with the younger market, a live-streaming event was the most effective way to reach this audience. It also shows Mazda is willing to embrace new connectivity technology, technology that is beginning to feature heavily in its line of vehicles.
Expect the 2014 Mazda3 Later this Year
Mazda is planning to release the 2014 Mazda3 later this fall. When it arrives, it will be available at Cox Mazda, in Bradenton. We're located on Cortez Road West, just west of the Sweetbay Supermarket and a quick trip from many communities around Tampa. If you have any questions about our current line-up, feel free to email the Cox family.