The New 2014 Mazda MX-5 Miata is a Thrilling Sports Car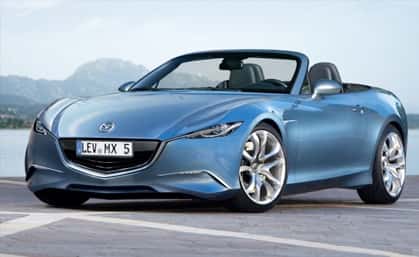 The all-new 2014 Mazda MX-5 Miata is one of the sportiest vehicles on the road these days. Mazda has always put a lot of thought and care into their Miata models, and that is why it has been one of the most popular sports cars of all time. For the new 2014 model, Mazda has kept the features that have made the Miata a blast to drive, while updating the performance and styling. The newest incarnation of the Miata is one of the most exciting vehicles we have seen in a long while. Here is what makes the 2014 model unique.
The Driving Experience
The engineers at Mazda have left no stone unturned in their quest to make the 2014 MX-5 a superior vehicle. The ultra-light engine puts out 167 hp in manual transmission, and in a vehicle of this size you feel every one of those horsepower. The electronically controlled throttle offers a seamless link between driver and vehicle, and optional wheel-mounted paddle shifters make switching gears a smooth experience. Finally, the MX-5 gets an impressive 28 mpg on the highway.
The Luxury Interior
This vehicle has been built with the true auto enthusiast in mind, which is why the interior is outfitted with the latest comforts and conveniences. Optional Bose surround sound speakers deliver premium audio quality and have ambient noise cancellation so you don't miss anything. The ultra-comfortable bucket seats come with optional leather trimming and warming features. The MX-5 has also been ergonomically engineered so that the pedals and gear shift are in the ideal locations.
The Stylish Design
The Miata has never been a big car, but that doesn't mean it can't command attention. For the 2014 model, Mazda has given the Miata a look that is strong but sleek. Plus, with optional design enhancements like front and read air drams and gunmetal wheels, you can customize the look of your Mazda sports car to your exact specifications.
Test Drive the 2014 Mazda MX-5 Miata at Cox Mazda
If you love to feel the wind in your hair as you zoom down the open road, contact our dealership to more about the 2014 Mazda MX-5 Miata. For excitement and thrill, there is no other car you would rather be driving. Let one of our Mazda experts walk you through this exciting vehicle.