Mazda Teams up With Star Trek to Promote the All-New 2014 Mazda6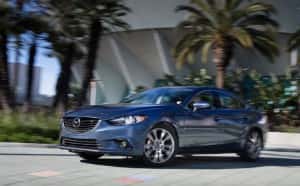 Mazda has announced an upcoming tie-in advertising campaign with the new "Star Trek: Into Darkness" film. The campaign will incorporate the new Mazda6 and Mazda's suite of fuel efficient SKYACTIV technology. And no, the suite unfortunately does not include phasers, photon torpedo, or warp drive; yet, at least. The new 2014 Mazda6 does seem out of this world, however. It may seem like science fiction, but we assure you it's very much a part of this reality.
Mazda and Star Trek Fans Come Together
The campaign will feature TV spots that link the film and Mazda, internet and social media content, and even a spot in the "Star Trek: Into Darkness" app for iPhone and Android. Mazda fans even got a chance to sit in the Enterprise's captain's chair and get their photo taken at the New York International Auto Show in early April.
Harmony with the planet has been an important tenant of Star Trek since the original series. Using science and collaboration, humanity has solved long pressing issues like pollution and resource shortages. We'd like to think the Mazda6 is doing its part to help the environment
Mazda SKYACTIV Technology Takes Fuel Efficiency to the Future
While we're still far from food replicators and limitless fuel supplies, Mazda's SKYACTIV suite is redefining how we approach vehicle construction. The 2014 Mazda6 for example, features a completely redesigned engine, transmission, and body. Using high-tensile steel, Mazda was able to make the vehicle's chassis both simultaneously lighter and stronger.
With an estimated fuel economy of up to 38 mpg, the Mazda6 offers great fuel savings to drivers thanks to its innovative technology. Besides its fantastic fuel savings, the Mazda6 has also garnered a Top Safety Pick award from the Insurance Institute for Highway Safety. On top of that, it comes available with some of today's most requested features, such as Bluetooth connectivity for handsfree calling and music streaming.
Test Drive the 2014 Mazda6 at Cox Mazda in Bradenton
While there hasn't been any word of a cloaking device available on the 2014 Mazda6, Mazda has talked about a joint engineering project with the Klingons to make the technology ready for next year. In the words of Lt. Worf, "BUY' NGOP!" or in our own tongue: "That's great news!" In the meantime, feel free to come to Cox Mazda and take the new Mazda6 for a test drive.