A Look at Mazda's SUV Models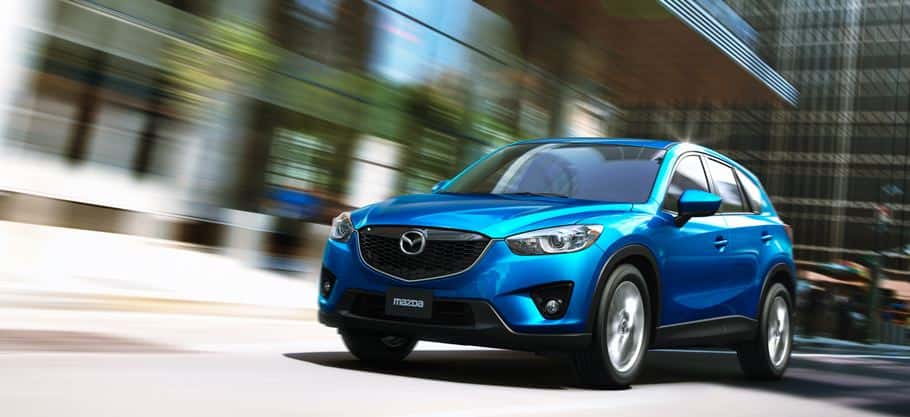 Here at Cox Mazda we like to remind people that Mazda doesn't just specialize in sporty cars like the Mazda MX-5 Miata – they offer make some of the best SUVs on the road! The CX-5, CX-7, and CX-9, are all in stock at our Bradenton Mazda dealership now! We're happy to recommend these crossover SUVs for their thrilling driving dynamics, their impressive capabilities, and their outstanding fuel economy. Most crossover SUVs simply can't stack up when it comes to fun-to-drive personality and style.
Mazda SUVs at Cox Mazda
Here's a little more about the currently available Mazda models:
The 2014 Mazda CX-5 is a five-seat crossover that stands out from an increasingly crowded segment due to sharp styling and impressively sporty handling. This doesn't translate to an uncomfortable ride; it simply means that you might actually have a bit of fun driving! That's part of the reason that the CX-5 took home the 2013 J.D. Power and Associates Highest Ranked Vehicle Appeal Award in its class. It also boasts best in class fuel economy with up to 35 mpg. No wonder this is one desirable SUV!
The 2013 Mazda CX-9 offers seating for up to seven, a 273 hp V6, and nimble handling. It's just not easy to pack all of that into one vehicle, but Mazda manages somehow. Available all wheel drive adds serious all-condition and all-terrain capability, and up to 3500 in towing capacity make this an easy choice if you trust your vehicle to tackle any situation or job.
The Mazda CX-7, while discontinued since 2012, is still available as a used model here at Cox Mazda. The CX-7 is a compact crossover that offered awesome performance, especially with the turbocharged 2.3L four-cylinder, and impressive utility. If you're looking for a crossover, but you'd prefer to pay a bargain price a pre-owned CX-7 might be just the ticket.
Learn More About Mazda SUVs and Crossovers at Cox Mazda
Make sure you swing by Cox Mazda in Bradenton for your next vehicle. We're open every day of the week to help you find your next vehicle! Our dealership has a wide array of new and used vehicles in stock at all times, and our friendly sales staff are always happy to help you find the vehicle that best fits your needs!