Removing an Old Bumper Sticker the Easy Way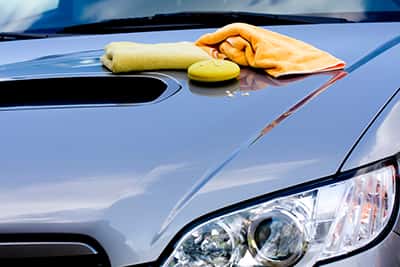 So you're looking to sell your used car, but hopefully to someone who's willing to spend a little more than that college kid down the street. You've kept up with your regular vehicle service at Cox Mazda in Bradenton, so you're sure you'll be able to get a good resale price for it.
There is one thing that is nagging at you, though: that old bumper sticker. Maybe it's an old endorsement sticker for a politician that has since lost your trust. Or perhaps its a "My Kid is an Honor Student" badge, a distinction they've never earned since, by the way.
Whatever the reason, that old sticker needs to come off. Luckily, this little piece of home maintenance is easier than you think. Here is a quick method to remove a sticker easily from your bumper.
No Expensive Tools Needed
All you really need to the pull off those bumper stickers, you can probably find in your bathroom:
A common blow dryer
Rubbing alcohol
A microfiber rag
Start by gently heating one edge of the bumper sticker from about 6 inches away with the blow dryer. You should see the edge start to bubble a little. Begin to slowly peel it back, following it with the hot air. If you work slowly enough, you should be able to get it all off in one piece.
After you get the sticker off, you'll be left with some residue. Take the rubbing alcohol, apply some to the rag, and wipe off the remaining sticker residue. After that, make sure to wash the area to remove the rubbing alcohol, and then apply some auto wax to protect the newly exposed paint.
For All Your Other Maintenance Care, There's Cox Mazda
So you got the stickers off, but now you're thinking of a few vehicle repairs you want to take care of before you sell it. Cox Mazda takes care of everything from oil changes to timing belt replacements. Thanks to our competitive prices and quality work, we continue to be one of the best places around Bradenton to get vehicle care.
If you would like to make an appointment with our team, feel free to give us a call or make an appointment with us online. Our dealership is located at 3101 Cortez Road W. in Bradenton, just a quarter mile to the west of the Sweetbay Supermarket. We're also just a short drive from many different communities around Sarasota, St. Petersburg, and Tampa.