The 2014 Mazda6 Grand Touring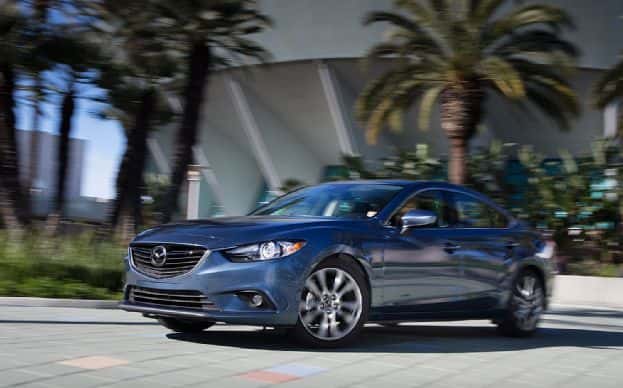 Exceptional value, pristine handling, and more power than you'd expect in a midsize sedan, the 2014 Mazda6 Grand Touring has hit the streets of the Sunshine State. As the Mazda6's top trim package, at an MSRP of $30,290, the Grand Touring brings car owners power and luxury at an affordable price. Cox Mazda in Bradenton has plenty in stock, so come by and experience this brand new model for yourself!
Efficient Power
The new Mazda6 Grand Touring will strike the boredom out of your drive with sleek looks and nimble handling. Beneath the hood, you'll find a Skyactiv-G 2.5 L I-4, pushing out 184 hp and 185 lb-ft of torque. It can go 0-to-60 in 7.4 seconds, and clocks the quarter mile in at 15.7 seconds, hitting a peak of 88.6 mph along the way. Feel free to use the wheel-mounted paddle shifters to go from gear to gear, listening to the engine spring to life, while accelerating at a thrilling speed.
The 6-speed automatic Grand Touring gets an impressive 26 mpg city and 38 mpg highway. If you prefer a manual transmission, you'll lose 1 mpg on both measures — a fair trade off for an exciting feature you'll love to use everyday.
A Suave Interior
The interior of the new Mazda6 Grand Touring is quiet, making the sound of shifting gears barely a whisper. The dash looks clean, without the bother of unnecessary baubles or lines to clutter the view. In the driver's seat, the intuitive instrument cluster is clear and easy to read.
The solid black interior is offset by chrome accents, a product of good design. The leather trimmed, sport-style seats are supremely comfortable, the front row seats are heated, and the luxurious feel is topped off by a leather-wrapped steering wheel.
The 5.8" touch screen has navigation, a rearview camera display, Sirius Satellite Radio, and hands-free Bluetooth connectivity that allows you to use your phone for calls and texts safely while driving. Your music will sound amazing in the Bose 11-speaker surround sound system, and you can hook your MP3 player to it. The Grand Touring is for the driver who wants everything, at a reasonable price.
Ready to Try it Out?
Come down to Cox Mazda, get behind the wheel of the Mazda6 Grand Touring, and take it for a test drive. Our friendly sales team knows how to answer any question you can come up with, and can be your guide into your gorgeous new car. Visit our dealership at 3101 Cortez Road West, Bradenton, FL to see the Mazda6 Grand Touring today!