Better, Faster, Stronger: The All-New 2014 Mazda6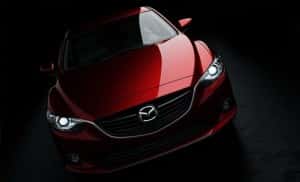 Once in awhile a vehicle comes along that begins to change the game. That's exactly what the 2014 Mazda6 is doing. Utilizing the full power of Mazda's SKYACTIV technology suite, the Mazda6 offers better fuel economy, more engine strength, and better handling than ever before.
Redesigned Lighter and Stronger Body
To start a revolution, though, you need to toss out the old and build from the ground on up. That's why Mazda completely re-engineered the Mazda6's body. Using a new combination of materials, the new frame is simultaneously lighter and stronger than before, making it 30% more rigid. This increased rigidity means that the 2014 Mazda6 handles better, is able to protect occupants more effectively in the event of a crash, and vibrates less during driving. Less vibration means a quieter, calmer ride in the cabin.
On top of using new materials, Mazda studied frame construction down to the very inch, removing spot welds that were inactive. When cutting down on weight, pretty much every ounce saved counts.
Standard SKYACTIV Powertrain
Under the hood is a SKYACTIV 2.5L Inline four-cylinder engine with an amazing power output of 184 hp and 185 lb-ft of torque at 3250 rpm. Despite this strength, the 2014 Mazda6 gets an average highway fuel economy of 38 mpg with the automatic transmission.
New Diesel Engine Option
Mazda has also announced the upcoming release of a new 2014 Mazda6 diesel model. Similar to its gasoline powered counterpart, the diesel powered Mazda6 is equipped with an all-new engine. Mazda designers went back to the drawing board and redefined how the diesel engine is made. Features include:
A lower compression ratio that requires 10% less engine mass, thus reducing weight
Lower noxious emissions, eliminating the need for bulky filtering equipment
An increased, 40 mpg fuel economy
Mazda claims that the new SKYACTIV-D 2.2L Twin-Turbo Diesel engine "delivers the driving performance of a 4.0L V8, the cleanliness of the latest clean gasoline engines, and the fuel economy of a hybrid."
Test Drive a Mazda6 at Cox Mazda in Bradenton
Interested in taking the 2014 Mazda6 out for a spin? Feel free to contact the Cox family to schedule a test drive. Cox is located on Cortez Road West in Bradenton, just a quarter mile to the west of the Sweetbay Supermarket.