The Mazda CX-9 is a Great Car for Larger Families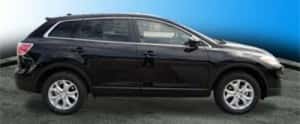 I came from an average-sized family growing up, or average as far as my neighborhood was concerned. As the oldest of six children, I felt like I was in a good spot. One of my best friends was also one of six. Another guy I knew was number three in a line of twelve. I knew several families in fact that had upwards of eight to ten children. This is why I called my family size "average."
When I moved away to college, I discovered a family of six was on the larger end of the spectrum. One question that always would invariably come up with people I met was about how we all got around. Choosing a vehicle did take consideration. Those giant, 15-seater vans that they use to drive you to airport were popular in my neighborhood for a while. It seemed like it was either that or an equally cumbersome SUV.
Luckily today, there are a wide range of more stylish options available, helping large families to get around while still keeping their dignity. Mazda took it signature approach to design and crafter the beautiful 7-passenger CX-9. And like the rest of Mazda's line-up, the CX-9 delivers fantastic performance and a full list of comfort features.
Three Rows of Pure Comfort
One of the best things about the 2013 Mazda CX-9 is its ample cabin space. Having plenty of room, especially on lengthy road trips helps to relieve stress and keep everyone's spirits buoyed. Without the moonroof, the CX-9 has an impressive passenger area of 139.4 cubic-feet.
When you don't need to take advantage of all three rows, the CX-9 offers plenty of cargo space:
17.2 cubic feet (both rows up)
48.3 cubic feet (third row down)
100.7 cubic feet (both rows down)
As a cargo carrier, the CX-9 is great to have on that move to college, or when grabbing that abandoned bookshelf from the curb.
Fantastic Features
Along with space, the CX-9 comes is available with a long list of comfort amenities, including:
Dual zone automatic climate control
A 5.8-inch color touchscreen display for the sound system
USB and auxiliary inputs
Bluetooth handsfree calling
A rearview camera
Learn More at Cox Chevy
If you and your family would like to take the CX-9 out for a test drive, we invite you to stop by our dealership! We're located at 3101 Cortez Road West, in Bradenton, just west of the Sweetbay Supermarket.