The Mazda6 Skyactiv-D Racecar is Not so Different From the Mazda6 Sedan, Available at Cox Mazda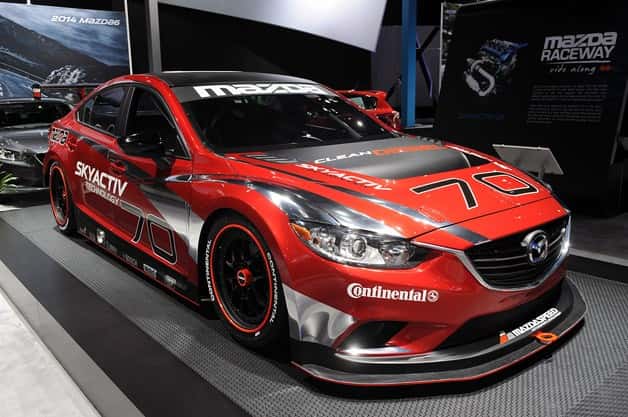 When unveiled for the first time at the 2013 Detroit Auto Show, the new Mazda6 Skyactiv-D racecar caused quite a stir. While the new Skyactiv-D racecar is built to dominate on the racetrack, its power and style is not completely unattainable for the rest of us. The racing model has plenty in common with the new 2014 Mazda6 sedan, now available here at Cox Mazda in Bradenton, Florida.
The Next Generation Mazda6
Although the Mazda6 Skyactiv-D racecar won't be widely available for sale, it has generated plenty of excitement for Mazda's new lineup. For 2014, the best-selling Mazda6 has entered its next generation and the new model shares many of the recently debuted racecar's features. In fact, save Skyactiv-D's chin spoiler, rear wing, and lower ground clearance, the two models are almost identical in terms of appearance.
In its next stage of evolution, the Mazda6 sedan stands out from the crowd of mid-size sedans with aggressive new styling and the new, highly-efficient Skyactiv-D diesel powertrain option. Mazda's Skyactiv technology puts the new vehicle near the top of its class in terms of fuel economy and performance.
Both the racecar and the new Mazda6 sedan come equipped with a version of Mazda's 2.2L Skyactiv-D diesel engine. The production model, while less powerful than the track version, still has a lot of power to offer. With a choice of two packages, the Mazda6 will please a wide variety of drivers. Options include the standard tune that generates 148 hp and 280lb-ft of torque, and an exciting high-performance variant that cranks out 173 hp and 310 lb-ft of torque. While you might not be able to win Daytona in the 2014 Mazda 6 sedan, you are absolutely guaranteed to have a thrilling ride.
Visit Cox Mazda For a Test Drive!
For a taste of racecar style at an affordable price, keep in contact with us at Cox Mazda to check out the new Mazda6 on our sales floor. Our dealership is open seven days a week, so drop by for a test drive today!