Cox Mazda Carries Used Toyota Models in Bradenton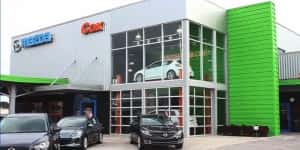 Searching for a pre-owned Camry, Corolla, Prius, or other Toyota model? Our Bradenton used car dealership has a selection of pre-owned Toyotas for affordable prices, as well as other pre-owned models. Like pre-owned Mazdas, used Toyota models continue to be popular thanks to their reliable engineering and longevity. Let's look at a few of the used Toyota models you may find in our pre-owned inventory.
The Toyota Corolla
Toyota's compact model, the Corolla not only typically comes at a low price tag, but offers high fuel economy. It's a great option for drivers who prefer smaller vehicles, as well as ones that have a low cost to own.
The Toyota Camry
One of Toyota's most popular models, the Camry is a mid-sized, four-door sedan. Like the Corolla, a reputation for dependability and longevity have made this is popular used option. The Camry has long been one of the best-selling cars in the United States, so it's hard to go wrong here.
The Toyota Prius
The Prius hybrid car is defined by fuel efficiency. With a typically high price tag when sold new, pre-owned Prius cars at a lower price are popular finds at Cox Mazda. There are a few different Prius models ranging in size.
The Toyota Rav4
The Rav4 is a crossover SUV and a perfect fit for many families. With a reputation of power and comfort, as well as safety, the Rav4 is one of the most well rounded options in its class. This is a great car for those looking for the space of an SUV, but with the handling and efficiency of a car.
Test Drive a Pre-Owned Toyota at Cox Mazda
See a used Toyota that you like? We encourage you to stop by Cox Mazda to take a Toyota, or any of our other used models, out for a spin around Bradenton. Cox is located at 3101 Cortez Road W., right next to our other dealership Cox Chevy.