Ward's Auto Previews the 2014 Mazda6
Everyone's saying that for 2014, the Mazda6 is growing up. At Cox Mazda, your Sarasota-area car dealership, we're extremely excitedly for this car to land. Mazda approached the North American mid-sized sedan market with one goal in mind: to be the best car in its class. This segment of the market is terribly competitive, so they had to shoot high in performance, efficiency, and design to make it happen. Ward's Auto Group previewed the newest 2014 Mazda6 and here's what they had to say about it.
Aggressive Styling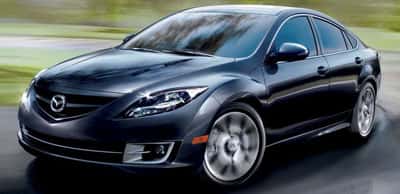 For the 2014 model year Mazda is applying their KODO (Japanese for "Soul of Motion") design language across the board. That means that the Mazda6 is being redesigned to embody strong natural lines. The three principles of KODO are speed, allure, and tension, and the new Mazda6 heartily embodies all.
The Mazda6 makes a serious bid at potentially having best-in-class power and efficiency, being available with five super-efficient Skyactiv engines for 2014. The 2.0L engine boasts a fantastic 42.7 mpg and the bigger 2.5L gets an impressive 37.3 mpg. The integrated SKYACTIV system, which includes a lighter chassis, a smooth and efficient SKYACTIV automatic or 6-speed manual transmission, as well as the innovative engine, is sure to make a splash when it hits the U.S. market next year. Mazda engineers sought to improve performance and efficiency and performance on all fronts with this integrated system and one of the side effects and benefits of a lighter car is that it feels more nimble, more precise, and more exciting to drive. The Mazda6 will also include Mazda's i-ELOOP technology, which, in lieu of a hybrid-like battery, uses regenerative braking to power the electronics inside the car to save a little more energy.
See For Yourself at Cox Mazda!
We at Cox Mazda think that the Mazda6 might change the game in mid-sized sedans and we're excited to see it land. If you're interested in checking out any of the current 2012 and 2013 Mazdas, we're happy to talk to you about all of their features including the exciting new SKYACTIV technology. Please contact us with any questions. We can't wait to see you!