What Happened to the Mazda RX-8?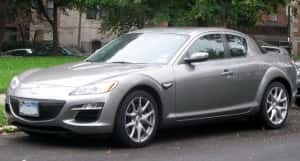 Like suddenly realizing a member of your hiking party has been missing for over an hour, some Mazda fans have been wondering about what happened to the RX-8. A high-powered sports car, the RX-8 appeared on North American shores for the 2004 model year. Despite its good run, Mazda decided to end the RX-8 after the 2011 model year.
Be sure to watch Cox Mazda's used Mazda inventory for an RX-8 model, or contact the sales department with help on tracking one down.
Development of the RX-8
Like the name suggests, the RX-8 was a number in a long line of sports car reiterations. The RX series was more unique because it used a rotary-style engine, as compared to an inline engine. More popular in aviation, a rotary style engine has the cylinders positioned to spin in radials around a stationary crankshaft.
The Wankel rotary engine, found in the RX series, worked a bit differently, though. It was engineered as a "pistonless rotary engine," overcoming many of the limitations that a conventional rotary engine saw, such as the air resistance against the spinning pistons. Inside a Wankel engine, strong pressure inside a single chamber is used to drive a large shaft, which in turn rotates against the crankshaft. This set-up creates an incredible amount of high-rpm power.
Mazda first integrated a Wankel rotary engine into the 1995 RX-01, a concept car that never saw production. This concept vehicle was inspiration for in-house skunkworks project, a term that generally means an unofficial project carried out by a team of developers for their own interest. The project soon caught the attention of management, who made the project a priority.
The RX-8 model was designed as a front engine, RWD model, with a 50:50 weight distribution. When they arrived in the US in 2004, RX-8 models with the 6-port rotary engine had a power output of 238hp. For the 2009 model year, Mazda cut down on weight, which they claimed made the RX-8 faster.
Watch for an RX-8 at Cox Mazda!
Though the RX-8 is no longer in production, it doesn't mean that you can't get your hands on one. Be sure to check out our pre-owned inventory from time to time to see if one arrives!