What Is Mazda's i-ACTIV AWD® System?
What is Mazda's i-ACTIV AWD® system? This fully autonomous all-wheel drive setup available on models like the new Mazda CX-9 matches excellent fuel economy returns with the ability to take on whatever the road ahead has in store. Some noteworthy aspects of the system include:
Torque automatically distributed between the front and rear wheels
Sensors that monitor your driving behavior as well as road surface conditions and the speed of all four wheels
Cutting-edge technology like a Front-wheel Slip-warning Detection System and a Torque Control System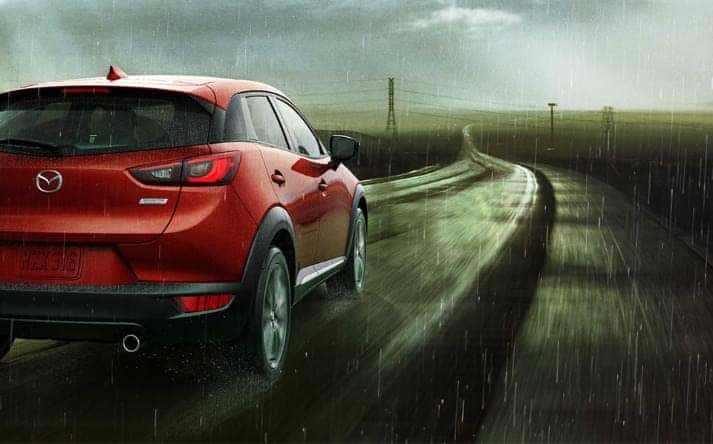 How i-ACTIV AWD® Works
Mazda's i-ACTIV AWD® system is always one step ahead. The system monitors road conditions in real-time in order to control the distribution of torque, which may mean full front-wheel drive in ideal conditions of full 4-wheel drive in less than ideal conditions. i-ACTIV AWD® is constantly tracking and adjusting the amount of torque sent to the rear wheels.
Meanwhile, sensors installed with the system monitor factors such as:
Accelerator position
Steering angle
Brake fluid pressure
Road surface condition based on rain or snow, temperature, and more
Steering torque as compared with the current running through electric power steering
Speed of all four wheels
Based on the data collected from these sensors, i-ACTIV AWD® is able to determine the appropriate amount of torque to deliver, and where.
i-ACTIV AWD® Technology
Mazda's i-ACTIV AWD® features some highly innovative technology systems.
Front-wheel Slip-warning Detection System: Relying on various sensors, this technology calculates the ground speed along with the front wheel speed, so that it can detect wheel slips that you likely wouldn't notice on your own. These tiny wheel slips may indicate potential tire spin.
Torque Control System: This system helps the rear-wheel drive to respond by transferring a small amount of torque to the back, even when your Mazda vehicle is using front-wheel drive. This makes it easier to transition to all-wheel drive mode when necessary.
Access Mazda's i-ACTIV AWD® at Cox Mazda
Purchase a model like the new Mazda CX-5 with i-ACTIV AWD® when you shop at Cox Mazda. You can also learn more about the advanced FWD on vehicles like the Mazda3. Find out more about other technologies like SKYACTIV® TECHNOLOGY. Give us a call to learn more.