What is SKYACTIV?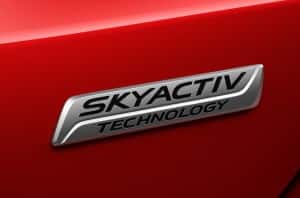 Chances are if you've been paying attention to the latest international auto shows or Mazda's new car line in general, you've might have heard the word SKYACTIV thrown about a bit. More than just a cryptic term, SKYACTIV is helping to revolutionize fuel economy in Mazda's line-up.
New Mazda Technology
SKYACTIV is an umbrella term that covers an entire suite of technology that Mazda engineers have developed to increase the fuel economy of their vehicles.  This includes newly engineered:
Engines
Transmissions
Drivetrains
Bodies
Chassis
SKYACTIV Fuel Savings
Mazda's approach to fuel savings is obvious. Rather than just concentrating on developing a more efficient engines or transmissions, Mazda has taken the car back to drawing board and reinvented it from the bottom up. Increased fuel efficiency here and reduced weight there add up to big fuel savings.
Take the Mazda6 for example. The new Mazda6 has been completely redesigned for the 2014 model year and has incorporated most of the SKYACTIV technology suite. Its maximum highway fuel efficiency of 38 mpg is reached by integrating a cutting-edge engine with other technologies. The body, for example, is both much lighter than before, while still increasing overall strength. High-tensile steel makes up 61% of the structure, giving it these dual characteristics.
After all, though, the engine is the heart of the vehicle. Mazda put a lot of attention in to making sure that drivers could get as much out of its as possible. This includes:
A huge 13:1 fuel compression ratio
An improved exhaust system that helps to prevent knocking and increase overall performance
An advance direct injection system
Friction reduction throughout the engine, increasing efficiency and decreasing wear
Test Drive a SKYACTIV Car at Cox Mazda
If you're interested in learning about the 2014 Mazda6 or any other of Mazda's current vehicles, feel free to visit Cox Mazda at our dealership in Bradenton. We're located on Cortez Road West, just a quarter mile to the west of the Sweetbay Supermarket. Feel free to contact Cox Mazda, too! While you're here, how about taking a test drive?