What to Do if You Have Fluid Leaking From Your Car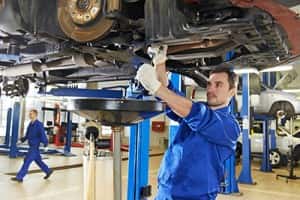 Your car has a wide range of essential fluids that help its many components operate correctly, including motor oil, brake fluid, coolant, and more. If you see anything other than water dripping from underneath you car, be sure to get it checked out immediately at Cox Mazda in Bradenton. If you're in need of car help, please don't hesitate to make an appointment with us.
Your Vehicle's Essential Fluids
Here are just a few of the fluids that help to keep your car running. If you notice a leak, it's important that you clean it up off of your driveway as soon as possible. Not only will many vehicle fluids leave a stain, but pets and other animals may attempt to drink them, which could be very harmful. Make sure to use gloves when cleaning them up and don't let any get on your clothes.
Motor oil – Oil is the lifeblood of your vehicle. A leak out the bottom means that the oil is not getting to where it is supposed to, leaving vital engine parts improperly lubricated. Oil does burn off over time, though, so even if there isn't a leak, it's still important to make sure you get your car in for scheduled changes.
Brake fluid – Your brake calipers run on hydraulic pressure. A break in this line means that your brakes won't function properly. If you think your brake line may be leaking, the safest bet is to have your vehicle towed to a repair shop.
Coolant or anti-freeze – Mixed with water in your car's radiator to help cool the engine, anti-freeze should be cleaned up with gloves immediately if it's been spilled. It tastes sweet to pets, who can die if they accidentally ingest it.
Cox Continues to Be a Trusted Name to Bradenton Drivers
Thanks to a lasting dedication to friendly, personalized service as well as competitive prices, Cox Mazda has remained one of the top places for vehicle service in Bradenton and the surrounding communities. We're also pleased to be part of the Cox family, one of the most trusted names in the auto business in the Suncoast area for over 80 years.
To take advantage of our service, visit us at our dealership at 3101 Cortez Road W. in Bradenton.