What's the Big Deal About Diesel, Anyway?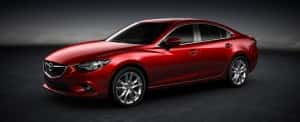 With all the hype about the new, clean diesel-powered 2014 Mazda6, a lot of drivers are wondering exactly what diesel is. To those that have a faint idea, it sounds crazy that diesel could ever be considered "clean." Stinky, murky, and noxious are three words that come to mind when these people picture machines that run on diesel. Diesel power has come a long way, though, since it was first introduced in the United States. No longer just for clattering old freight trains, high-energy diesel fuel has been harnessed like it never has before thanks to the hard work of Mazda engineers.
More Fuel Efficient Than Gasoline
Like gasoline, diesel is derived from petroleum. It naturally has more energy per unit than gasoline, making it more fuel efficient. Its higher compression rating means diesel engines (named after inventor Rudolf Diesel) need to be bulkier to obtain proper combustion. It also means diesel fuels are prone to give off more noxious nitrous-oxide compounds.
Since the diesel engine's invention in 1892, manufacturers have tried to harness the power and efficiency of diesel while trying to lose its noxious exhaust. Up until recently, this involved using heavy after-burn units that would clean up emissions. The added weight of this equipment bogs down the vehicle, canceling out the fuel efficiency.
Mazda solved that by building the SKYACTIV-D 2.2L Twin-Turbo Diesel, whose smoother operation lends to naturally cleaner emissions. Other improvements include:
More torque
Lower engine weight
Increased fuel economy
Watch for the 2014 Mazda6 Diesel at Cox Mazda
Like the Mazda6, the SKYACTIV-D 2.2L Twin-Turbo Diesel engine is changing the auto-industry. Together, they should help to make an even greater positive impact. If you would like to learn more about the Mazda6, we encourage you to give our team a call, or visit our dealership.
Located at 3101 Cortez Road West, in Bradenton, Cox Mazda is one of the most trusted names on the Suncoast in auto sales. We're pleased to continue to sell revolutionary vehicles like the Mazda6, as well as provide genuine, personalized service. We look forward to helping you!