Will We See a Diesel Edition of the 2014 Mazda3?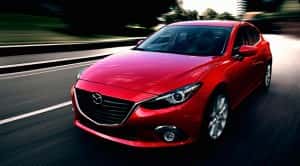 Mazda recently unveiled the 2014 Mazda3 to great fanfare, and while the hotly anticipated car drew plenty of applause it also attracted a few questions, mainly: will we see an alternative-fuel edition of the Mazda3. The answer, as it turns out, is a definitive "maybe."
Jim O'Sullivan, Mazda North America CEO, recently told Automotive News that the automaker is considering adding a 2.2L Skyactiv diesel engine to the Mazda3 at some point. Whether or not that actually happens will likely depend on the sales of the diesel model of the Mazda6, which will go on sale in the U.S. later this year.
Perhaps a hybrid? Historically, Mazda has been averse to hybrid technology, but word is that a hybrid model of the Mazda3 is on its way — unfortunately, though, there are no plans to make it available in the United States. It will be Mazda's first full hybrid production model, and it's possible we could see the automaker adopt the technology in more of its vehicles in the future — but that's pure speculation.
The 2014 Mazda3 will be available in the U.S. this September, and it's set to be even better than its predecessor. For one thing, it's wheelbase will be 2.4 inches longer than that of its predecessor, despite the hatchback model being almost two inches shorter than the 2013 edition. It's also lower and wider than before, giving the car a more aggressive look while adding to the car's interior space. It makes full use of Mazda's KODO design language, which results in a car with fluid lines and an aggressive stance.
As for the powertrain, we know for certain that there will be at least two options. The first is a Skyactiv-G 2.0L engine that produces 155 hp and 150 lb-ft of torque. Drivers who want a bit more jump from their vehicle will want to opt for the Skyactiv-G 2.5L engine, which produces 184 hp and 185 lb-ft of torque.
Whether you want to learn about the 2014 Mazda3 or you want to take a test drive of the 2013 edition, we'll be happy to help when you come to Cox Mazda. We're located at 3101 Cortez Road West in Bradenton, FL, and we hope to see you soon!