How to Open the Mazda Key Fob and Replace a Dead Battery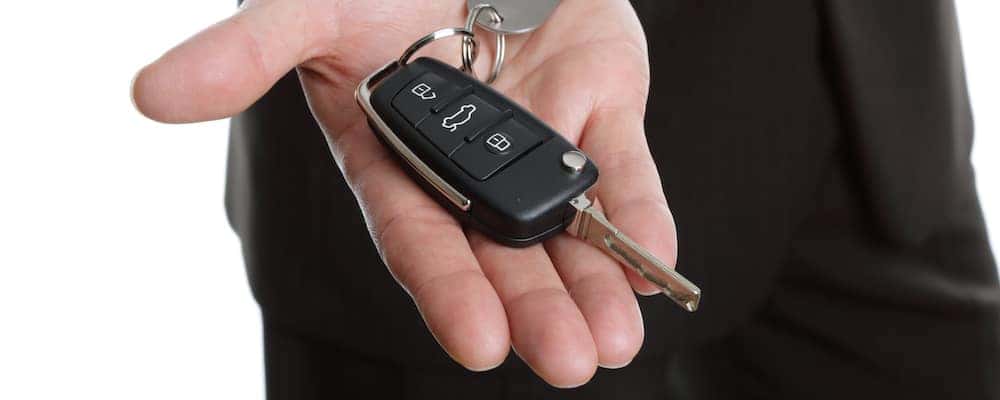 Sarasota drivers live in a world with convenient remote start, push button starts, and keyless entry technology. What happens when all of these features stop working as they should? You can always count on Cox Mazda and our service center to diagnosis and treat tech problems, however, if it's just a dead battery you may need to know how to open the Mazda key fob yourself. In order to get the process started of changing your dead key fob battery you will need:
Your Mazda key fob
A replacement battery on hand (CR2025 battery)
A small flat head screwdriver with the head wrapped in tape to prevent scratches
Opening Your Mazda Key Fob
As you being the process of learning to open your Mazda6 key fob or your Mazda CX-5 key fob, you will be glad to hear that the process is similar no matter which Mazda model you own. You can follow these simple steps to reveal the battery:
Press the auxiliary key button on the back of your key fob in order to remove the metal auxiliary key
With the metal key gone, you'll notice a slot on either side of the key fob case.
Use the tape-wrapped flathead screwdriver to pry open the case, first on one side, and then on the other. Work gently.
This should remove the case. Place the latter in an easily-visible spot where you won't lose track of it.
Replacing Your Mazda Key Battery
The process of actually replacing your Mazda key fob battery should only take a moment once the fob is open. Follow these final steps and get back on the Tampa roads:
Remove the battery cap, and set it next to your key fob case.
Your Mazda key fob battery should be fully exposed. Remove it, being careful not to damage the small rubber ring that it sits upon.
If you scratched or damaged the rubber ring, it's important to replace this component before moving on.
With the ring in place, take your new replacement battery and set it in its place in the key fob. The positive (+) side should be up, facing you.
Return the battery cover to its proper place, and then reattach both sides of the key fob case. Press until you hear them click into place.
Quick and Easy Service at Cox Mazda
Whether you determine that replacing your Mazda key fob battery yourself is going to be too time-consuming, or you want to ensure that is done right, reach out to the service team at Cox Mazda in Bradenton. We can walk you through the process step by step or do it ourselves in a jiffy. Be sure to review our Mazda service specials and learn more about the Mazda maintenance schedules to determine if you need to schedule other maintenance check-ups or repairs while you are in the bay.
We also have other maintenance blogs, like our instructions on checking the transmission fluid on your car, our guide on oil change prices, and instructions on how to clean leather car seats. From Mazda CX-9 towing capacity, to Mazda CX-5 towing capacity, to Mazda key fob tips, we have you covered. We'd also love to help you with general driving tips like how to drive efficiently.
More from Cox Mazda
The 2021 Mazda3 hatchback for sale near Sarasota comes in six trim levels, each of which feature their own unique features and design elements. Take a moment to learn more about the differences between the Mazda3 Hatchback configurations. Then, fill out a pre-approval and schedule for some test drives at Cox Mazda in Bradenton! MAZDA3 Hatchback…

The new Mazda CX-30 is back and better than ever for 2021, delivering sophisticated performance and the Mazda specs Sarasota drivers know and love. If you're in the market for a subcompact SUV, the Mazda CX-30 should be at the top of your wishlist. This elegant SUV delivers a smooth driving experience and strong performance…

The gas mileage of the 2021 Mazda3 is tough to beat. Offering powerful vehicle dynamics paired with impeccable fuel economy ratings, the Mazda3 sedans and hatchbacks are great for Sarasota drivers who are looking to do their part for the environment. Learn more about the Mazda3 gas mileage ratings here! Learn MoreBrowse Mazda3 InventoryContact Us…